5 best render farms in 2023 you should know
A render farm is a familiar thing to any 3D artist. iRender talks about 5 best render farms in 2023 you should know, and how render farms have changed the game.
How do render farms help you?
As a 3D artist, you should be very familiar with render farms. We all know how time-consuming, and resource-intensive it is to render animation and visual effects (VFX). It can take hours, or days for an average artist. With big studios with huge projects such as Pixar, rendering time is in months and years. That is where a render farm comes into play. It will boost your efficiency and simplify your process. Basically, these are three main benefits of using a render farm.
Lightning-fast rendering speed.
Projects that take days to render on a personal computer can now be completed in hours with the help of render farms. Their hundreds of powerful computers will render your project in no time.
With render farms, you can leverage more advanced rendering techniques, allowing you to produce more realistic, detailed artwork. For example, you usually use smaller ratio images (e.g. 1920 x 1080px) when creating the project to save time. But then you can go for 4K or higher when sending it to render farms. 
Building and maintaining your own render farm will cost a lot of expense and effort. Instead of that, you only pay for the rendering power that your projects need while rendering on an online render farm.
All in all, the goal of render farms is to let CG artists focus on what they do best – creating stunning art. They should not worry about render times and wait for the boring rendering process to finish.
Render farms have changed the game
Going back in time, the term "render farm" first appeared in 1990 during Autodesk's production of the animated film "The Bored Room". Large studios that can afford expensive software and hardware have dominated the animation and VFX industry. Over time, along with the advancement of software and hardware, the introduction of render farms made this resource accessible to everyone. Whether you work in the animation, VFX, architecture, design, video games industry. Whether you are a freelancer or a big studio. 
Independent artists and creators are able to produce high-quality animation, VFX without worrying about render times or operational costs. Small studios and freelancers are able to create creative stuff without having to build their own render farms. Cloud render farm services have been quietly and gradually changing the game like that.
Further, the increasing number of render farms and the advent of a new render farm model (IaaS) have made the competition become fierce. As a result, all render farms will have to improve their products and services so they can bring better experiences to their customers. In the end, users will benefit from having more choices.
iRender itself does the same thing. We always strive to be better. We always respect and learn from other render farms. Yet, sometimes when there are so many choices, you might not know what to choose. We would like to give you some recommendations for the best render farms we know. Of course, we can't know every render farm. But overall, these are the most powerful and leading render farms in the market. Each render farm has its strengths and weaknesses. Therefore, this is not a ranking but merely a reference for those who need to use online rendering services. We will introduce render farms in alphabetical order.
5 best render farms in 2023 you should know
Fox Renderfarm is a leading cloud rendering service provider in the industry. Since 2011, Fox Renderfarm has established a strong reputation for its great performance, customer service, and flexible pricing plan. With an outstanding team of over 20 years' experience in the industry, they have served many companies and studios from all over the world.
Fox Renderfarm allows users to upload projects with their web-based program or with a desktop client. Their system will automatically analyze and render your project. Then you can download the rendered frames with a few simple clicks.
This is the 3D Software, Renderers and Plugins that Fox Renderfarm supports: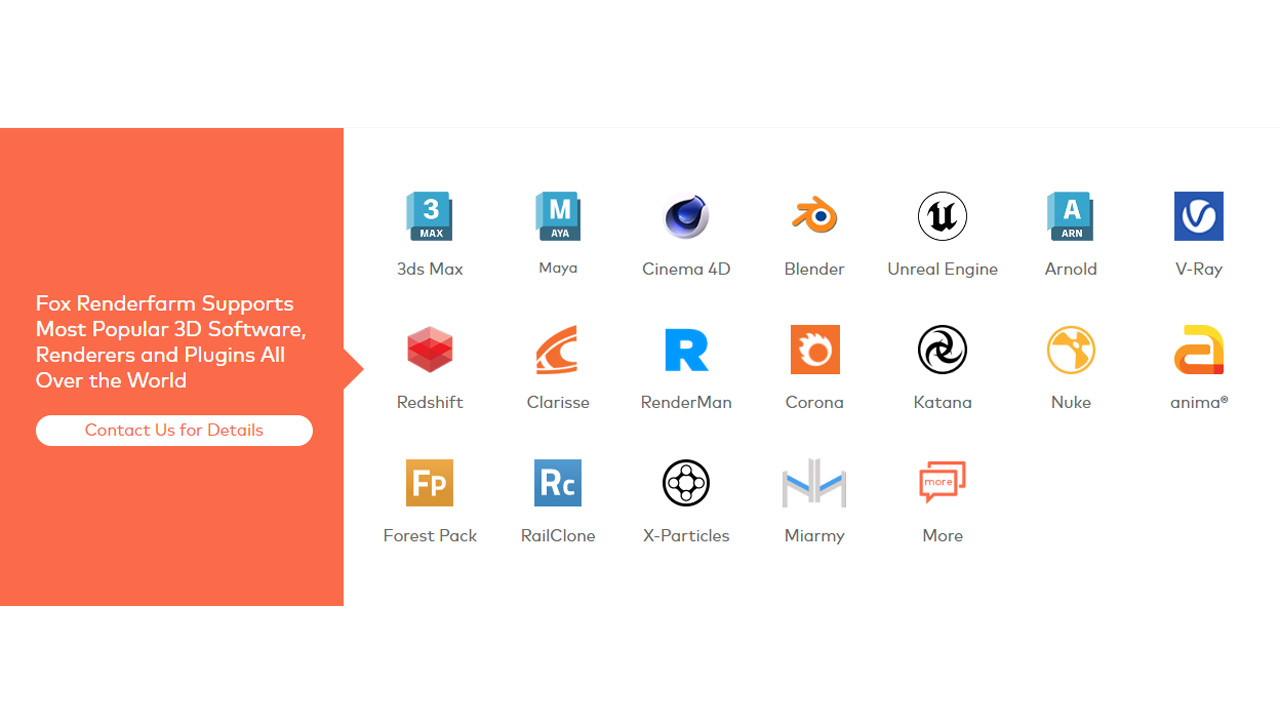 Contact Fox Renderfarm for details and support.
GarageFarm is a simple and affordable cloud render farm for 3D artists. Started in 2010 with a team of two, Tomek and Minhee, GarageFarm has grown bigger and provided professional render farm service for studios all over the world. 
They offer their users a renderBeamer plugin that seamlessly connects with your 3D software and fully automates the process of rendering. You can send your scene right from the interface of your application without any complex and time-consuming setups.
This is the 3D Software, Renderers and Plugins that GarageFarm supports: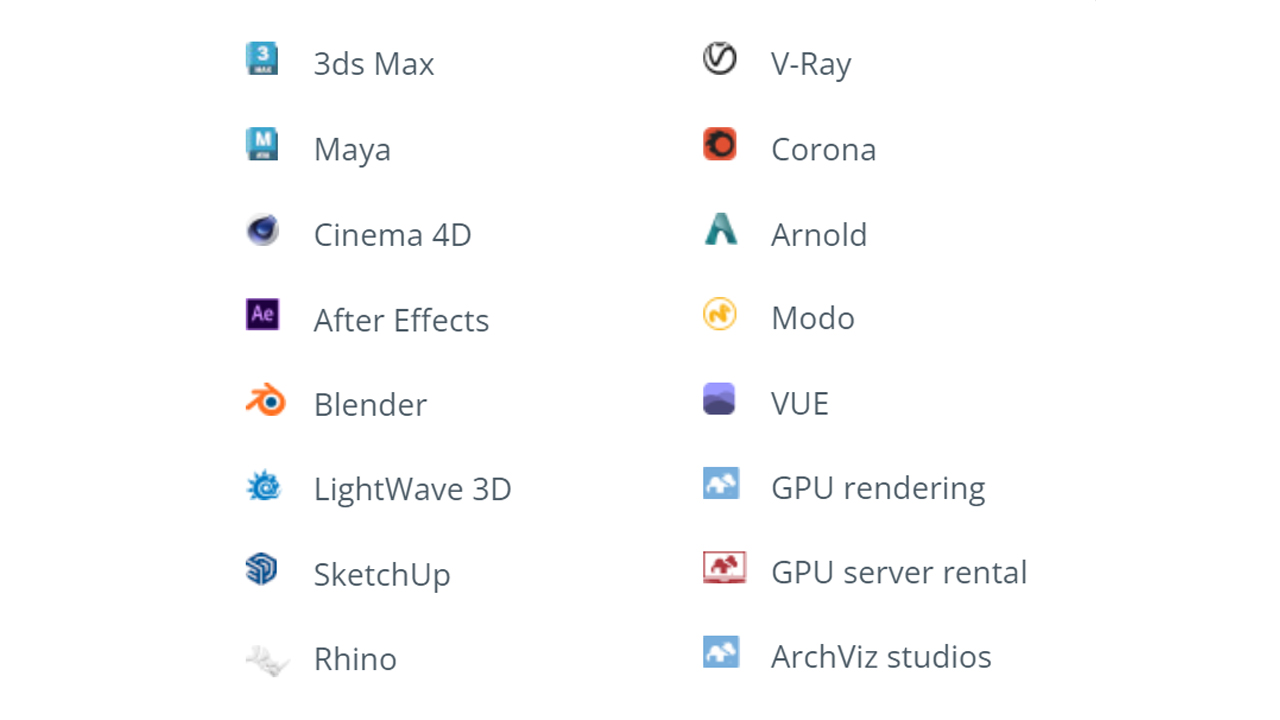 Contact GarageFarm for details and support.
Ranch Computing is a French cloud render farm service. Since 2006, they have rendered over 400,000 projects and served clients in more than 100 countries. Ranch Computing helps artists to tackle the rendering process serenely in order to meet their deadlines and their budgets.
Ranch Computing provides free tools so that you can use their service easier. RANCHecker plugin prepares your scene on your computer, then RANCHSync uploads it to their render farm.
This is the 3D Software, Renderers and Plugins that Ranch Computing supports: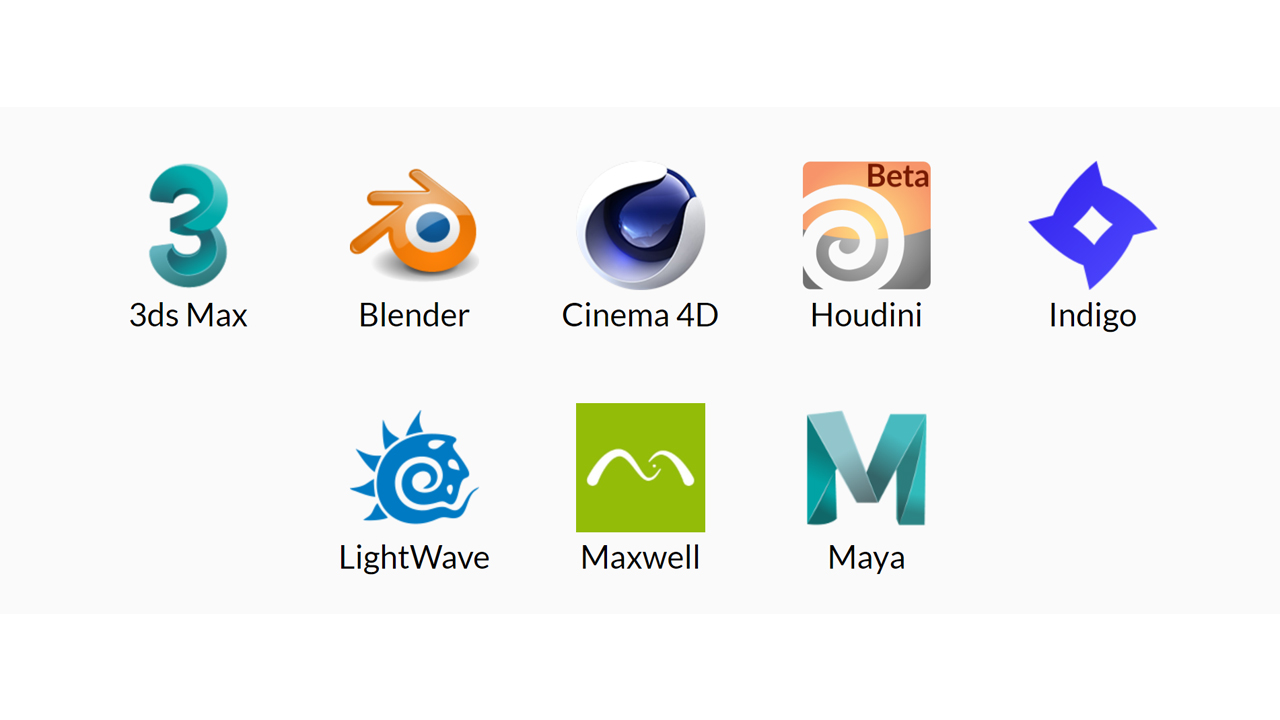 Contact Ranch Computing for details and support.
RebusFarm is a fast and reliable cloud rendering service with more than 16 years of experience since 2006. They target to offer the largest possible rendering capacity at the most affordable price while maintaining service-oriented contact with the customer.
RebusFarm supports many common 3D applications and render engines. They offer an all-in-one RebusFarm Software, that allows you to send the projects directly from your 3D application, and automatically download when the frames are completed.
This is the 3D Software, Renderers and Plugins that RebusFarm supports: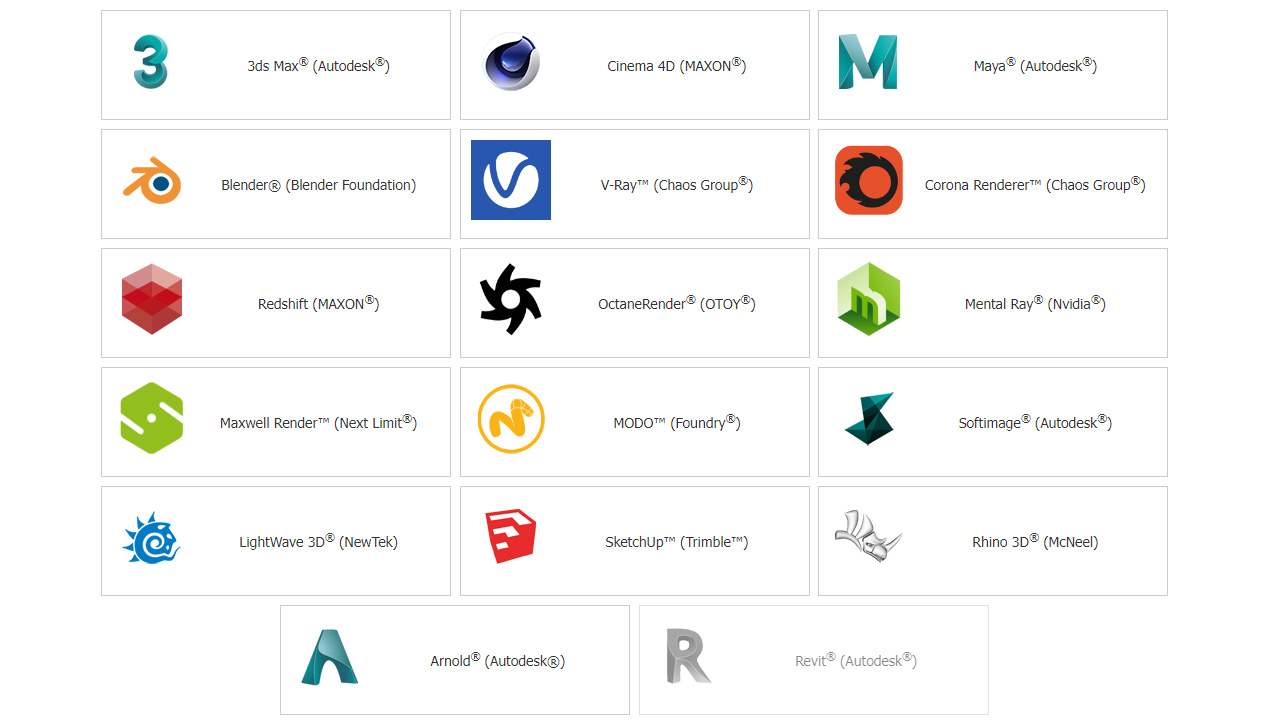 Contact RebusFarm for details and support.
iRender is a render farm as well. iRender takes the last place on the list because we want to pay tribute to the four big players above. Starting from 2019, we are very young comparing our years of experience. We know we have still a whole lot to learn and never stop to improve our products and services.
Since being born later, iRender chose a new path – the IaaS model, instead of the traditional SaaS model that the 4 other render farms use. Of course, each model has its advantages. Our IaaS model allows users to connect to iRender's servers and work directly on them like their personal computers. That also means iRender users have complete control over their projects and workflow, which is suitable for large projects or projects with a unique pipeline. To be more specific, iRender users will enjoy these benefits:
Compatible with all 3D software, renderers, plugins and script.
Hardware is the best of the best (RTX 4090 / 3090).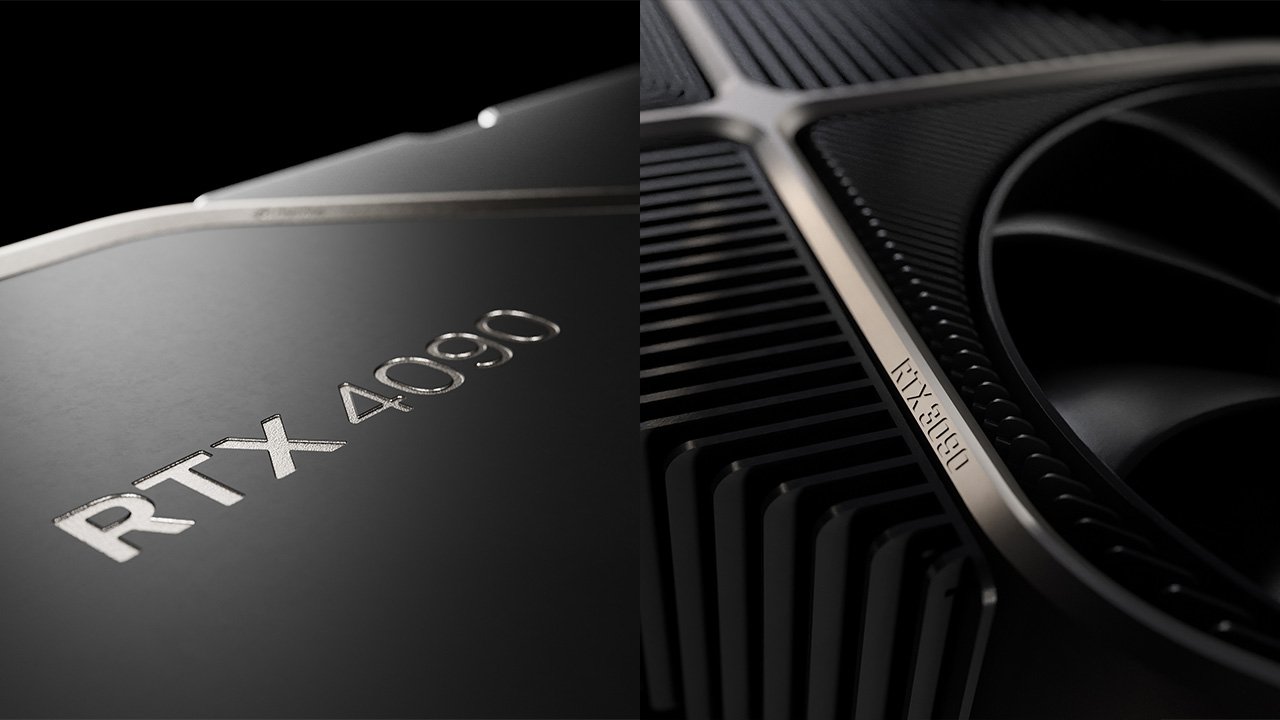 Choose a suitable configuration (1/2/4/6/8 GPUs).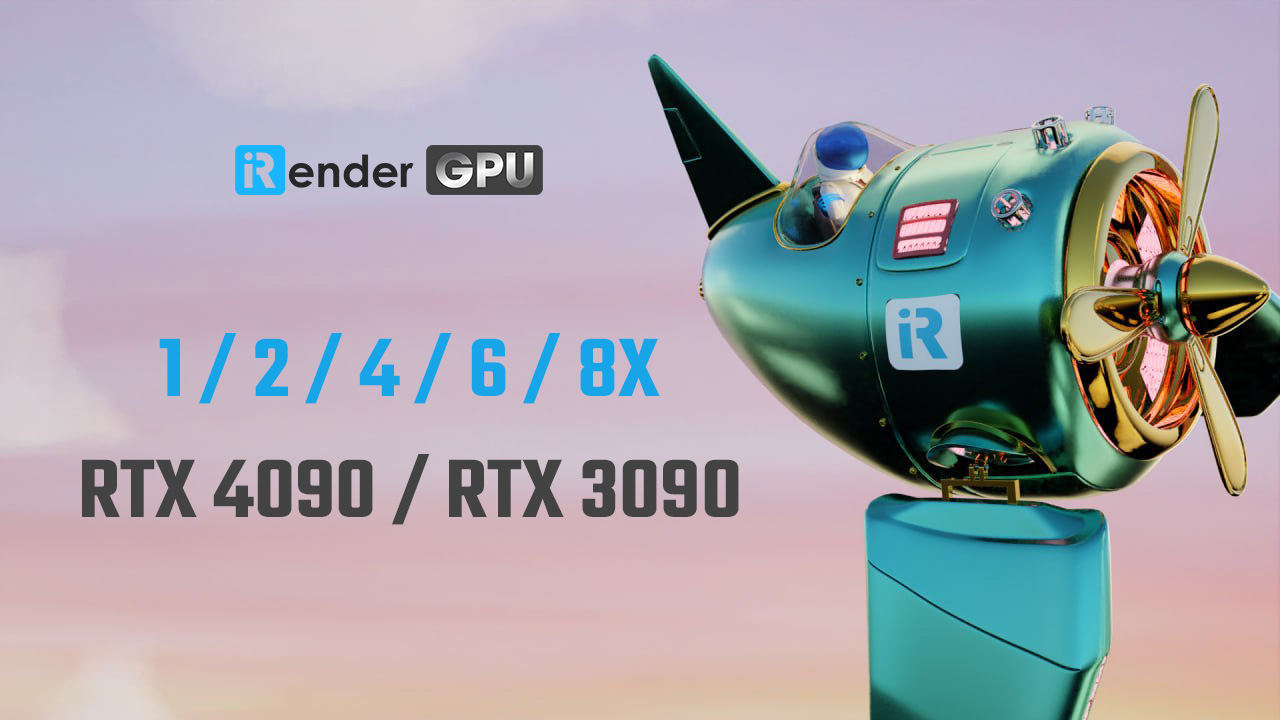 Fully control the rendering process (modify changes at any time, view the rendered frames in real-time, etc).
Contact iRender for details and support.
Conclusion to 5 best render farms in 2023 you should know
Among a variety of render farms, iRender wants to introduce readers to the 5 best render farms in 2023 that you should know: Fox Renderfarm, GarageFarm, Ranch Computing, RebusFarm and iRender. Once again, this is not a render farm ranking. We affirm that there is no such thing as the best render farm generally. Each render farm has its advantages and disadvantages. What you need to do is find a render farm suitable for you, then it is your best render farm.
Before ending the article, iRender would like to thank the four render farms above and all render farms in the world. Thanks to them, anyone pursuing a CG career can easily access huge computing resources, which enable many voices and visual styles to be brought to the screen.
5 best render farms in 2023 you should know