As we known that Octane is one of the most popular render engines. Besides, Octane is a GPU render engine that uses a method of calculating final produced pictures that attempts to be photo-realistic. Octane is an unbiased rendering engine leveraging GPU technology that is very close to physical accuracy. A good PC is important for a great experience with Octane.You wonder how to choose best PC for Octane users. In today's article, iRender will give you some suggestions to help you choose the best PC for Octane users.
1. GPU (Graphics Card) Requirements
OctaneRender supports all major platforms:
Windows® 7 or higher (64-bit)

Linux® (64-bit)

macOS® 10.13.6 High Sierra (NOTE: 10.14 Mojave and 10.15 Catalina do not support NVIDIA CUDA)
The most recent CUDA® 10 drivers and an NVIDIA® video card that supports computing capability 3.0 or above are recommended for OctaneRender. Additionally, it needs at least 8 GB of RAM, we think you should use 16 GB or more. The more affordable Quadro® and Tesla GPUs often have slower frame rates and render times than GPUs from the GeForce® series. OctaneRender can use many NVIDIA card types simultaneously and scales flawlessly in multi-GPU configurations. The primary advantage of using the GPU for rendering is performance. GPUs are usually much faster at rendering. You can refer to GPU recommendations for Octane:
GeForce RTX 3090: (10496 CUDA core, 1.695 MHz, 24 GB Vram)

GeForce RTX 3080: (8704 CUDA core, 1.1710 MHz, 10 GB Vram)
Last but not least, VRAM is really necessary for rendering in Octane. It helps your scenes could be loaded and processed faster. You can enable OctaneRender's Out-Of-Core capabilities if there isn't enough VRAM.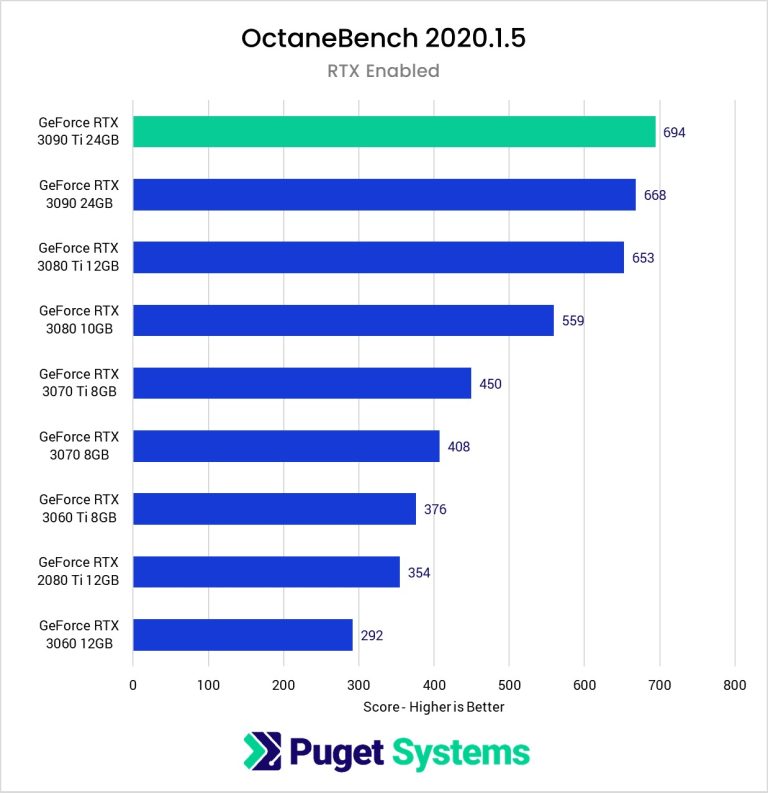 Image Source: Puget System
2. CPU (Processor) Requirements
As OctaneRender does not use the CPU for rendering, a fast multi-core CPU is not required, but it does significantly improve scene-loading speeds. With Octane, clock speed has the most influence on CPU performance. The number of cores does not appear to be important at all.
CPU will impact performance on rendering in Octane. Having lots of CPU cores doesn't help OctaneRender, but high clock speeds do. You can choose a CPU that clocks at 3.0 GHz or higher to render with Octane. You can refer total scores from OctaneBench for the 1 to 4 Titan V cards running on the Xeon W-2125 and W-2195 processors: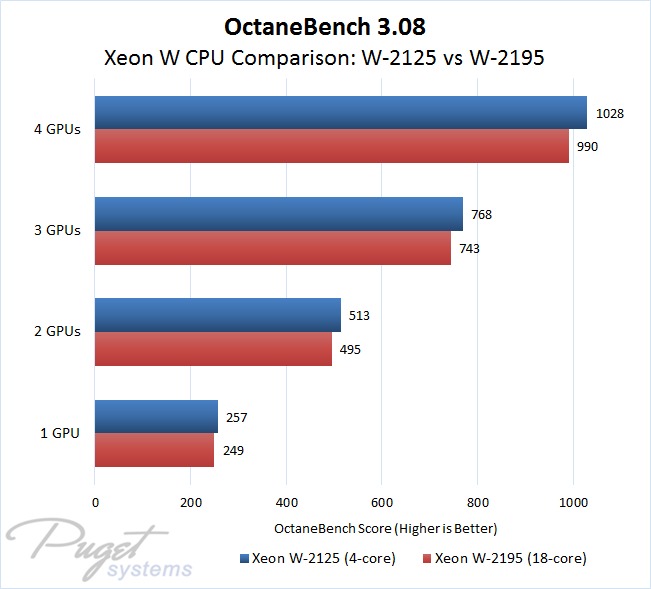 Image Source: Puget System
Here some recommendations for CPU:
AMD Ryzen Threadripper Pro 3955WX @ 3.90GHz (16 cores)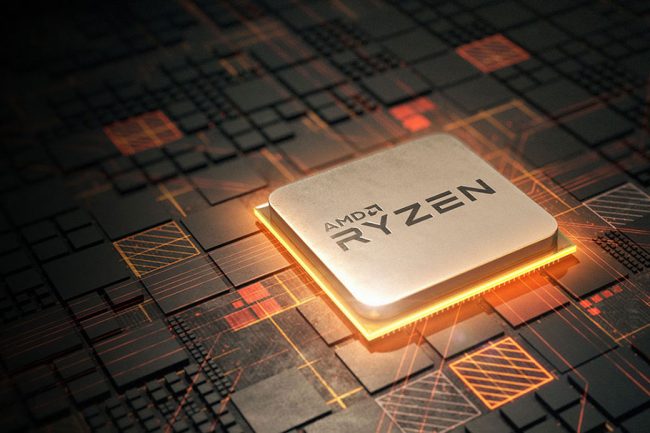 Image Source: AMD
3. RAM (Memory) Requirements
However, depending on your specific projects, you will need a different quantity of RAM. For OctaneRender, we recommend 32GB at minimum and more. Rendering engines like Octane are not usually run all by themselves, so you need to take account for the memory requirements of the other programs you are running at the same time. Your scene's complexity will determine how much system memory a 3D modeling program like Cinema 4D, Maya, or 3ds Max requires.
RAM recommendations for Octane is

: we recommend 32GB at minimum and more.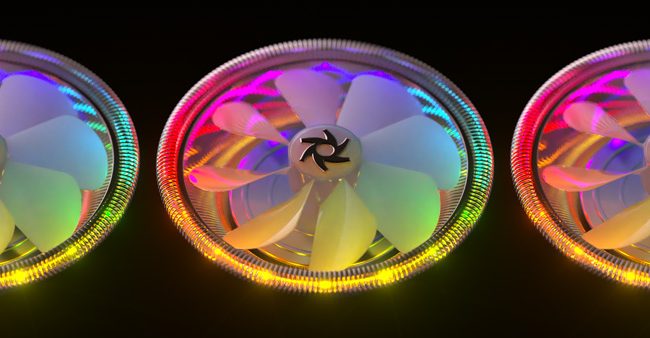 Image Source: Otoy
4. Storage Requirements (HDD, SSD, or NVME)
Octane is pretty fast already, so having a super-fast SSD is necessary, it will save and load extremely large files. And one important thing is it won't cause crashes. Generally, a standard SSD (Solid State Drive) is enough for most tasks that you would do. SSDs are much faster than any traditional hard drive at enabling your system to boot, run apps, and load files. If your budget allows, it is also a very good idea to have a second SSD that can be used to store your active projects to further decrease load and save time.
The best PC is important for a great experience with Octane. iRender hopes these tips help you can choose the best PC for render. If your budget is not enough to be able to buy a powerful PC at the moment. Let's join iRender to boost your render now, with iRender you will have your own powerful workstation just by one mouse click. 
iRender - The Best Cloud Rendering for Octane
1. High-end configuration
iRender is proud to be a professional GPU Accelerated Cloud Rendering Service provider for 3D Render, CGI, and VFX tasks with more than 30,000 clients. We are appreciated in many global rankings (e.g. CGDirector,  Lumion Official,  Radarrender,  InspirationTuts CAD,  All3DP, BlenderBaseCamp, VFX Rendering.)
Specially, we have many servers from single, dual to multiple GPUs to serve your needs. If you use Octane studio, our dual RTX3090s server (4P) will be the best choice. If you use Octane enterprise, check out our multi-GPUs servers like 4/6/8 x RTX3090s, they can render your project at lightning speed. Specially, we just released our new package server 4S (2 RTX 4090), you can refer its configuration as below:

2. Octane server test on iRender
Let's check out the rendering performance in Octane on RTX 3090 and RTX 4090 servers:
This month, we are running a SPECIAL PROGRAM: 20% Additional Bonus for new clients who register an account and make a top-up within 24 hours of registration. 
Get the FREE COUPON to try our high-end computers for your Redshift projects now! For further information, please do not hesitate to reach us at [email protected] or Whatsapp: +(84) 916017116. 
iRender – Happy Rendering!