Why should you use Ubuntu to render Blender?
Blender is one of the most popular open-source 3d graphics software in the world. Blender is a free 3D graphic design software that not only helps you to draw eye-catching works but can also be used to create epic 3D movies.
Blender can run on multiple platforms like Windows, Mac, and Ubuntu. Blender is essentially open-source software, so when Blender is used and working on the Ubuntu operating system, how highly effective will it be, let iRender read the article below to understand why should use Ubuntu to render Blender. Let's get started!
How to install Blender on Ubuntu OS?
You can install Blender on Ubuntu OS in 2 ways: Install Blender from the command line or Install Blender using a graphical user interface.
1. Install Blender from the command line.
Start by opening a terminal window and executing the bellow command:
$ sudo snap install blender --classic
You can start the Blender using the below command:
$ blender
2. Install Blender using the graphical user interface

You can search Blender on the top menu in the software application of Ubuntu OS and Proceed to install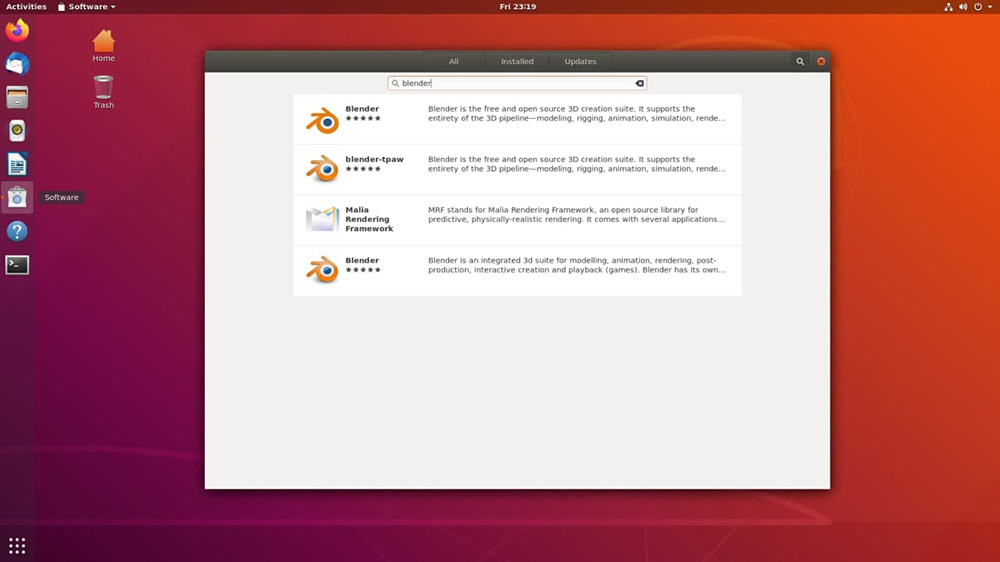 Why should you use Ubuntu to render Blender?
Blender and Ubuntu have in common that they are both open source. Such compatibility helps a lot when you use the right software in the right environment for it. So with Ubuntu what are the advantages that you need to care about here to render Blender:
Ubuntu works well on most low to high configuration machines, consuming fewer hardware resources.

The terminal on Ubuntu is preeminent, serves well, increases productivity for data handling. You can easily render Blender with just simple commands, without much work on the interface.

Fast rendering speed.
In the process of graphics processing, rendering is the most important step in creating quality products with beautiful graphics. To render quickly and smoothly, it is necessary to have a powerful graphical Workstation computer. With this, you don't have to worry because we've got you covered.
Currently, iRender has launched a new service, connecting the remote computer to the Ubuntu operating system when renting a GPU. If you are using Blender and want to render results quickly, do not hesitate to register and use our service now. I'm sure you will have great experiences.