The Difference Between Unreal Engine 4 (UE4) and Unreal Engine 5 (UE5)
Beginners into the games development scene might be overwhelmed by the amount of softwares to start their dev journey. When Epic Games released Unreal Engine 5 for game developers, it also added new features for virtual artists and filmmakers who use Unreal Engine to create virtual worlds. Besides, with the recent release of Unreal 5.1, even more recent features, tools, and bug fixes all work to improve virtual production. Unreal Engine rendering always gives the most realistic and amazing results. Today, iRender will find the difference between Unreal Engine 4 and Unreal Engine 5  in detail.
Main Difference between Unreal Engine 4 and Unreal Engine 5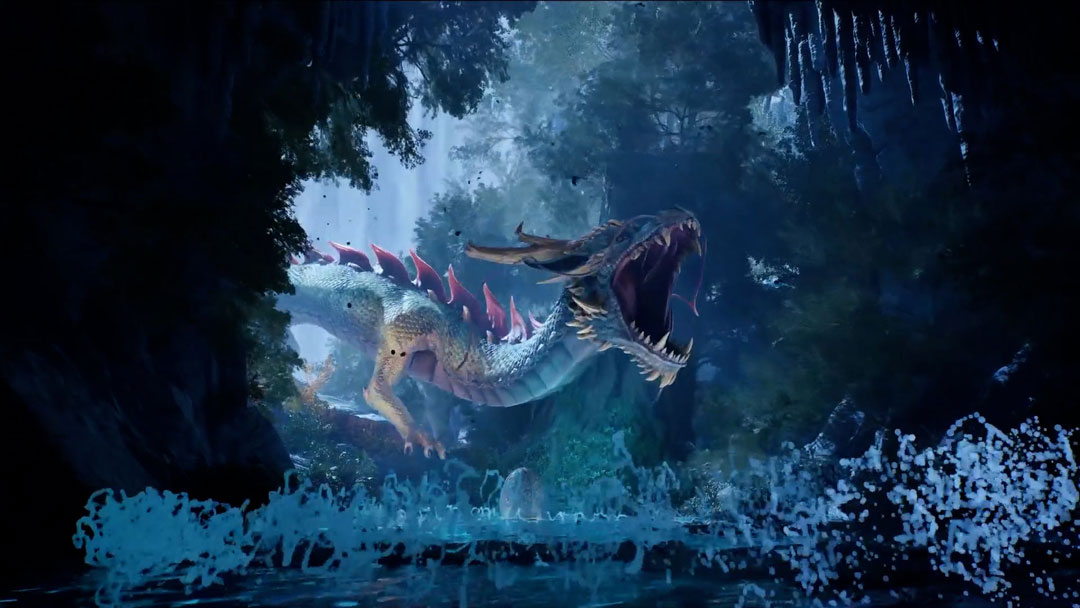 Image Source: IGN
There are many differences between Unreal Engine 4 and Unreal Engine 5. Both have a tremendous amount of potential. However, UE 5 has a number of outstanding features compared to UE 4. UE 5 enhances the creativity of UE 4 for a better user experience.
Probably the most significant difference between UE4 and UE5 is the amount of polygons that can be used within the engine. Polygons are the shapes used to create meshes inside the game engine . Unreal 5 was able to handle up to 10 billion polygons, whereas Unreal 4 could only handle a few million polygons. Then, with UE 5, you can create more vast cityscapes and environments than before.
Another main difference between the two is the lighting system. With UE4, all lighting had to be artificial and realistic-looking if that was your aim. Now with UE5 the built in lighting system called Lumen allows for real time realistic lighting just by adding the lights. This system calculates the math that a real light ray would follow to give off the most real looking lighting possible.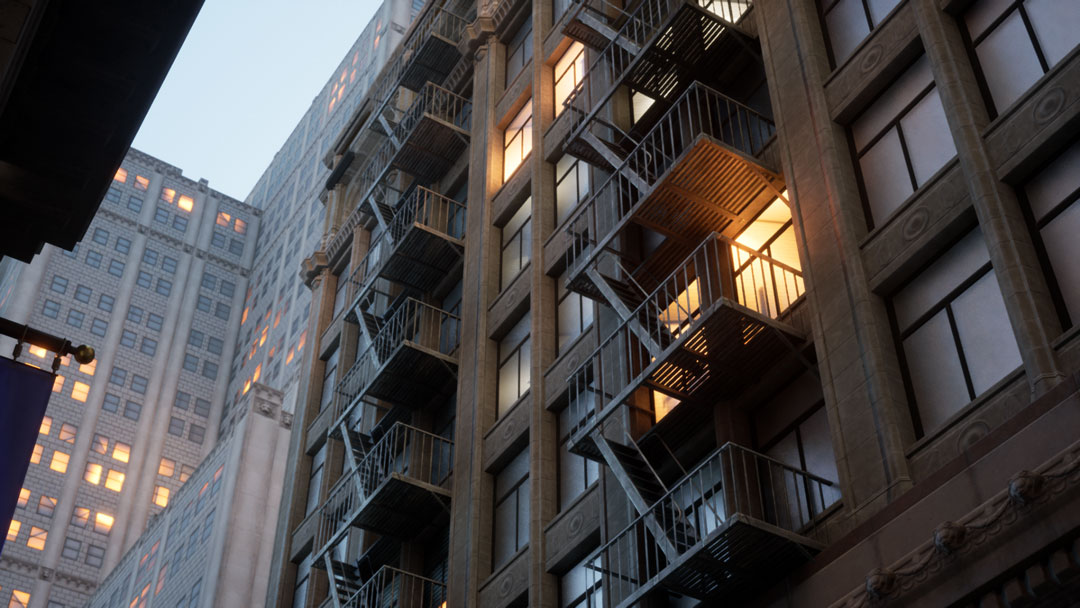 Lumen in UE 5 (Image Source: Unreal Engine)
In Unreal Engine 5, lighting is dynamic (or real time) by default. In UE4, a similar feature, raytracing, could be integrated, but only with a powerful enough graphics card and processor. With Lumen, all lighting is automatically real time and optimized.
For example ray tracing to work in UE4. Ray tracing setup requires changing project settings, lighting expertise. Moreover, manually adding lighting to a scene is simply one step in the process of creating realistic lighting, rendering ray tracing in UE4 unusable for video games due to its high CPU cost. On the other hand, in UE5, Lumen can operate on a new PC. You can use UE5 for ray tracing and real time, highly realistic lighting.
One drawback of UE5's Lumen and Nanite is that they do not support virtual reality.
User Experience and Interface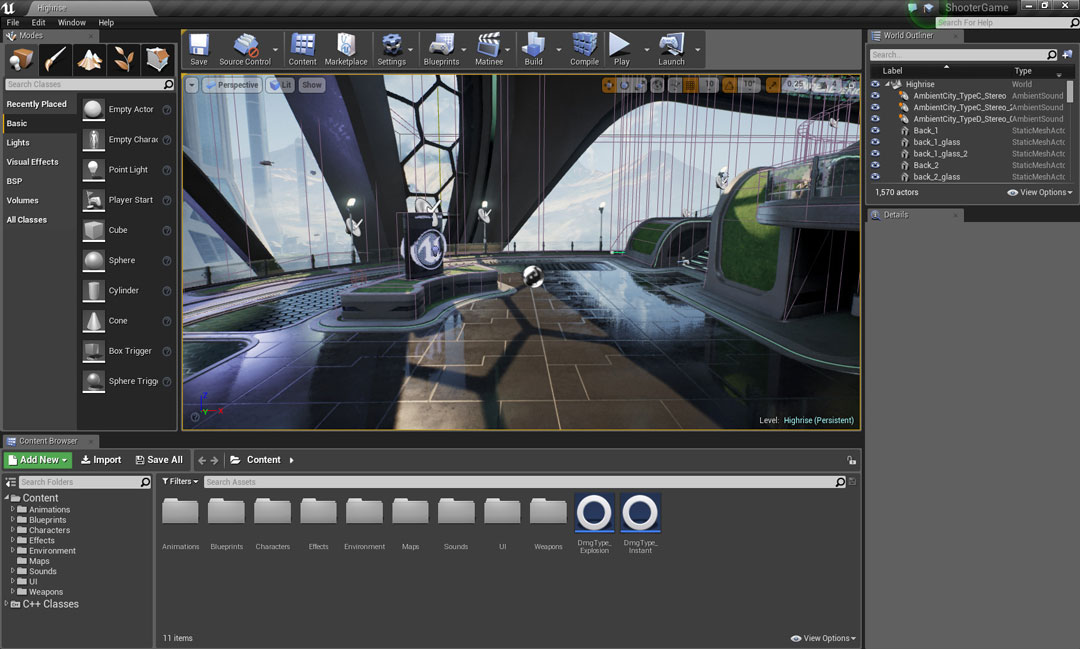 UE 5 Interface (Image Source: Unreal Engine Document)
Unreal Engine has also had a facelift. The previous user interface of UE 4 is also quite easy on the eyes. However, the interface is also a bit classic because it was released 10 years ago. Now with UE5's release, the new editor is smart, sleek and Functions and features are far easier to use; the introduction of a Create tab, more support for plugins (especially Quixel and Substance), a more streamline launcher and an improved content browser system.
In addition to this, despite some feature additions and UI improvements, the majority of tutorials and documentation for UE 4 still apply to UE 5.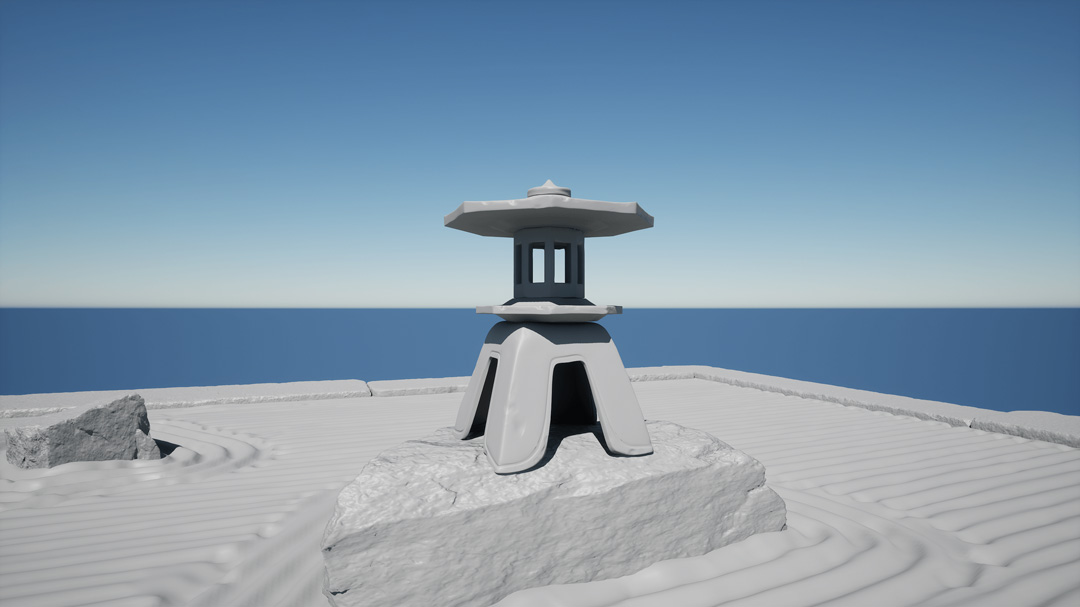 Image Source: Unreal Engine
Finally, modeling, sculpting and UV unwrap tools have now been added. The Modelling Mode in Unreal Engine 5 enables fast deformation and customization using a wide range of transformers and tools. In addition, users can also use the Landscape, Foliage, Mesh Paint, and Animation modes in addition to modeling, as well as a brush editing mode created just for the Mesh Paint function.
Overall if you are looking for a software to create games or make movies, Unreal Engine is the best option.You can see UE 5 runs quite smoothly and produces impressive results thanks to a lot of attractive features. To have the most objective view, you should try and experience. iRender is a Cloud Render Farm that supports all versions of Unreal Engine. With some basic steps, you install UE and start rendering with a high end PC.
iRender - The Best Cloud Rendering Support Unreal Engine
iRender is proud to be a professional GPU Accelerated Cloud Rendering Service provider for 3D Render, CGI, and VFX tasks with more than 30,000 clients. We are appreciated in many global rankings (e.g. CGDirector,  Lumion Official,  Radarrender,  InspirationTuts CAD,  All3DP, BlenderBaseCamp, VFX Rendering.)
We provide high-configuration dedicated servers (physical computers/machines) specifically optimized for GPU rendering. Using our service, you will have complete control over the server(s) you rent through the Remote Desktop application. Therefore, you can customize your creative working environment as you wish. Unreal Engine utilizes the video card primarily to display the graphics on the screen. A faster video card will give you a higher FPS in the viewport or in a stand-alone game. At iRender, we have a single RTX 4090 server package that is the most suitable for Unreal Engine rendering. Its detailed configuration is as the following pictures.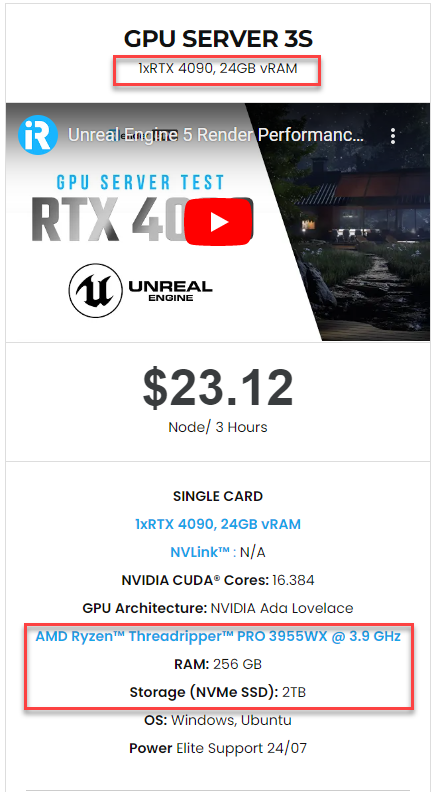 With iRender, you can run many machines at the same time to boost your render. The installation is also simple: Just set up Unreal Engine on one server (machine) and clone it to many other machines. Check out the rendering performance in Unreal Engine on iRender's server.
Create ACCOUNT now to try our high-end computers for your Unreal Engine projects! For further information, please do not hesitate to reach us at [email protected] or Whatsapp: +(84) 916017116. 
iRender – Happy Rendering!
Reference source: unrealengine.com
The Difference Between Unreal Engine 4 and Unreal Engine 5