GPU Cloud Render Service for Houdini for 3ds Max
Houdini Engine for 3ds Max is a plug-in that allows you to use Houdini technology directly within 3ds Max.
This plug-in brings Houdini's powerful and flexible procedural workflows into 3ds Max via Houdini Digital assets (HDA). Artists can control asset parameters inside 3ds Max interactively, via the user interface or scripting, and then "cook" the asset, which generates output geometry, materials, and other modeling constructs. The plug-in also supports 3ds Max input into Houdini, such as geometry and curves, which are sent into Houdini to be used as input, modified, and/or manipulated. In this article, let's get an overview of GPU Cloud Render Service for Houdini Engine for 3ds Max
Networks of nodes in Houdini can be easily wrapped up into Houdini Digital Assets and shared with other artists. These assets can be loaded into Autodesk 3ds Max with procedural controls using the Houdini Engine.
The results can then be manipulated further in 3ds Max and rendered as part of a 3ds Max scene. When a parameter on the asset is changed, the Houdini Engine is invoked to "cook" the network of nodes and publish the results to 3ds Max. This enables the incorporation of Houdini Digital Assets into a 3ds Max pipeline.
Follow the steps below to get started with Houdini Engine for 3ds Max:
Install
Install the Houdini Engine for 3ds Max plug-in, which is included with the Houdini installer. After starting the Houdini installer, simply select the Houdini Engine for 3ds Max component, and the plug-in will be installed in any currently supported version of 3ds Max. When the installation is complete, the plug-in will be available inside 3ds Max.

Update plugin
The procedure for updating the plugin is the same as for installing it. Simply install the desired version of Houdini, making sure to select the Houdini Engine for 3ds Max component, and the currently installed plugin will be overwritten by the new version.
Checking the Installation
After installing or updating the plugin, and opening or reopening 3ds Max, a Houdini Engine menu should appear. Select the menu and open the "Version Information" panel to ensure that the correct version of Houdini Engine is being used. It should display the version of Houdini that you installed or updated to.
Load an asset
Navigate to the "Load Assets" tab, then click the browse ("…") button and select the HDA file that you want to load. After you've selected the asset, click the "Load Asset" button to load it. If it successfully loads, the asset will appear in your "Loaded Houdini Digital Assets" list.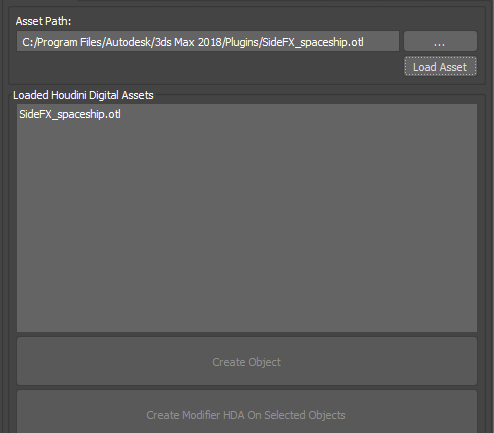 Houdini Engine System Requirement
Operating System
Windows:
Windows 11 (64bit)
Windows 10 (64 bit)
Windows 8.1 (64 bit)
Windows 8 (64 bit)
macOS:
Requires 64-bit Intel-based or Apple Silicon Mac with macOS 10.15 and higher
Note: on an M1 mac it is NOT supported yet but a technical preview is now available
Linux:
Ubuntu 18.04+ LTS (64-bit)
Debian 10.0+ (64-bit)
RHEL 7+ (64-bit)
Fedora 28+ (64-bit)
Open SUSE 15+ (64-bit)
CentOS 7+ (64-bit)
Mint 19.3+ (64-bit)
Pop! 20.04 LTS
Memory
4 GB required
12 GB or higher recommended and 64GB strongly recommended for fluid simulations
Processor
Intel or AMD x64 CPU with SSE 4.2 required. Houdini 19.5 will not run on a system with an instruction set lower than SSE 4.2.
Disk Space
4.5 GB required for installation
Graphics Cards
A GL4.0 compliant graphics card is required. GL3.3 cards will have missing features and lower GL versions will not run Houdini 19.5 at all.
4GB VRAM or more is required. Less than this can result in display errors such as blank windows. High DPI displays (4K, 5K) or multiple monitors require a minimum of 4GB.
Graphics card must support OpenCL version 1.2.
The OptiX Denoiser requires a Kepler or later NVIDIA GPU (K, P, M, V prefixes).
Karma XPU currently only supports CPU and NVidia Optix devices, with Optix being the most optimized code path in XPU. Future versions are expected to support CPU optimizations and more GPU hardware.
It is VERY important that you install the latest driver for your graphics card using the proprietary drivers direct from the card manufacturer, not the open source versions. Failing to do so may result in display issues and/or slow performance.
iRender - Cloud Rendering Solution for Houdini for 3ds Max
Who we are
iRender is proud to be a professional GPU Accelerated Cloud Rendering Service provider for 3D Render, CGI, and VFX tasks with more than 30,000 clients. We are appreciated in many global rankings (e.g. CGDirector,  Lumion Official,  Radarrender,  InspirationTuts CAD,  All3DP, BlenderBaseCamp, VFX Rendering.)
Our service
We provide high-configuration machines that are specifically configured and optimized for GPU rendering. Using our service, you have complete control and flexibility over the machines you operate. Therefore, you can customize your creative workstation as you wish. With a range of GPU machines from a single RTX 3090 to multiple 2/4/6/8x RTX 3090, you can choose one that meets your need to start the rendering process. Furthermore, we allow you to upgrade or downgrade your workstation without having to reinstall anything. You can even run multiple machines concomitantly to speed up the renders.
Why choose us for your projects?
Houdini is GPU-based renderer. This means that the graphic cards (or GPUs) in your system are what impact how long the renders take to finish. Also, Houdini GPU scales very well with multiple GPUs and can significantly improve your render times. Thus, the more powerful the GPU, the better, the more GPUs the faster the render will be. 
At iRender, we have both powerful GPU and multiple GPU machines that definitely speed up Redshift rendering. Our multiple GPU machines are designed with 2/4/6/8x RTX 3090. Also, all of them have a strong AMD Ryzen Threadripper Pro 3955WX processor, allowing you to extract mesh data, load textures, and prepare scene data more quickly. Moreover, the workstations are ideal with 256GB RAM capacity and SSD NVMe 2T storage space. We highly recommend you try the highest configuration server, the 8x RTX 3090. This server will be a super-configured one that brings crazy speed to Redshift in Houdini. It is rated as one of the most worth-trying machines so far for Redshift.
All of our machine configurations are publicly posted on our website. Visit HERE for more details about the configuration and the cost.
Let's check out the rendering performance in Houdini renderer on our 4/6/8x RTX 3090 machines in the 03 following test videos.
This month, we are running a SPECIAL OFFER: 20% Additional Bonus for new clients who register an account and make a top-up within 24 hours after registration. 
Let's get started!
Get the FREE COUPON to try our high-end machines of GPU cloud render service for your Houdini and Redshift projects now! For more information, please do not hesitate to reach out to our 24/7 customer service.
iRender – Happy Rendering!