Best CPU, GPU, Renderer for Maxon Cinema 4D
Maxon Cinema 4D is a very popular 3D application for modeling, animation, motion design, and rendering. You are curious about the recommended PC for working efficiently with the software? Come with iRender and find out the best CPU, GPU, and Renderer for Maxon Cinema 4D.
Cinema 4D is an extremely powerful yet easy-to-learn 3D tool for modeling, animation, and rendering. It is a perfect package for all 3D artists that wish to create stunning results quickly and easily. Both beginners and professionals can benefit from Cinema 4D's broad set of features and tools to achieve outstanding results quickly. Its renowned reliability also makes Cinema 4D ideal for demanding, fast-paced 3D production.
Best Renderer for Maxon Cinema 4D
Cinema 4D itself comes with two built-in render engines, which are Advanced Renderer and Physical Renderer. Though the two built-in render engines can render fast and attractive results, they are not the only options available to Cinema 4D artists. You can also use a wide range of 3rd-party render engines with it. Let's take a look at some major external render engines for Cinema 4D.
| | | |
| --- | --- | --- |
| Render engines | GPU rendering | CPU rendering |
| Arnold Renderer | ☑️ | ☑️ |
| Corona Renderer | | ☑️ |
| Maxwell Render | ☑️ | ☑️ |
| OctaneRender | ☑️ | |
| Redshift Renderer | ☑️ | ☑️ |
| V-Ray | ☑️ | ☑️ |
However, we think the big three render engines for Cinema 4D should be Arnold, Octane, and Redshift. Arnold is versatile, rock-solid, feature-rich, and effortlessly creates photorealistic images. Octane has super fast speed and delivers stunning output quality. Meanwhile, Redshift, as a GPU-accelerated and biased renderer, is one of the fastest around. It has incredible speed and meets the high-end production rendering in C4D.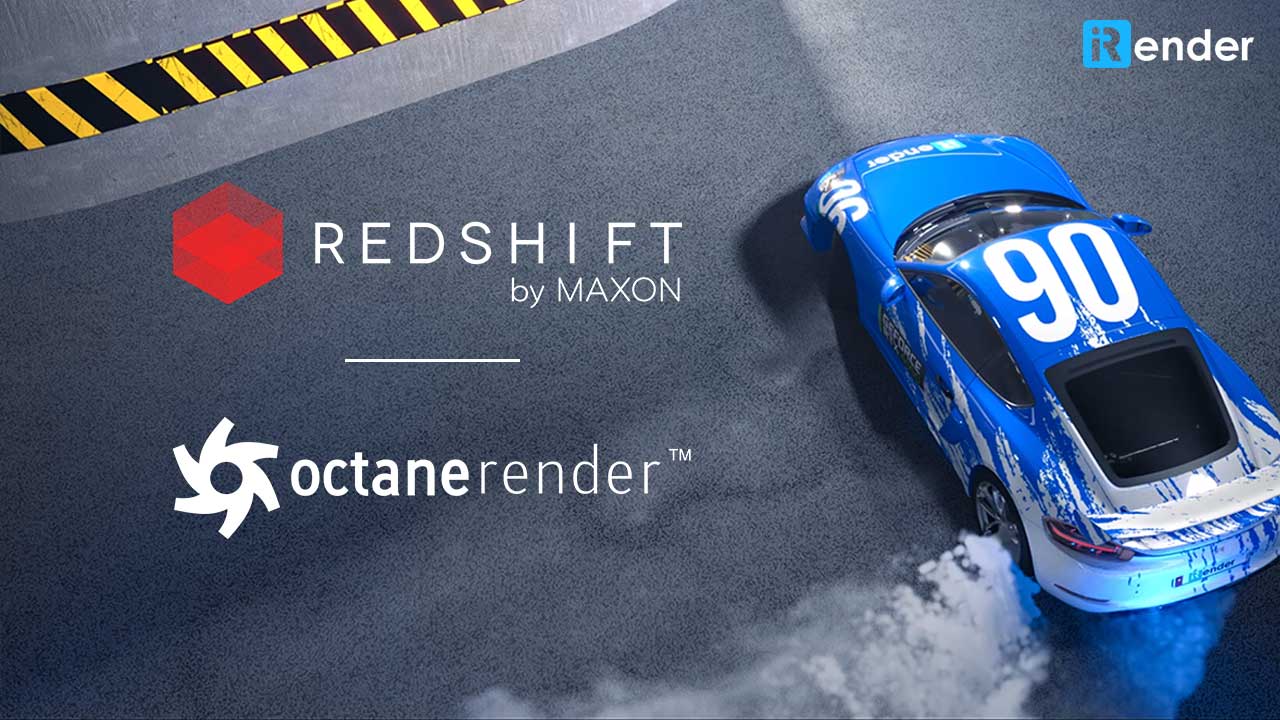 Overall, each renderer has its own strengths. And you can leverage their unique strengths for your projects. Having said that, Cinema 4D & Redshift is a perfect combination to create blazingly fast, production-quality rendering. Especially Cinema 4D and Redshift are now owned and developed by the same company Maxon. So, they have a tight integration, and you easily ask for support when there is any issue using either C4D or Redshift. In addition, Maxon offers a Maxon One subscription for all their products including Cinema 4D and Redshift, which help you to manage the installation, licensing, and upgrading of the applications with ease.
Best CPU & GPU for Maxon Cinema 4D
Depending on the render engine, you will need a decent CPU or GPU, or both to make the most out of your renders in Cinema 4D.
Most 3D design workloads in Cinema 4D can only require a single CPU core, for example, to create, modify, or animate 3D models. It means a processor with the fastest possible core speed is an ideal choice for these tasks. Therefore, if modeling is the core part of your workflow, you should get a CPU that has a high clock speed with a moderate number of cores.
However, it is a different story for rendering tasks. Cinema 4D's built-in Advanced and Physical Renderers along with other external render engines such as Arnold CPU, V-Ray CPU, and Corona are CPU-based. They use many cores very efficiently. Usually, a CPU with double the number of cores is roughly twice as fast as one with the same clock speed.
According to Maxon, the requirements of Cinema 4D 2023 for CPU are very general. It is required to have a 64-bit Intel or AMD CPU with AVX support (for Windows), an Intel-based Apple Macintosh with AVX support, or Apple M1/M2-powered Mac (for macOS).
In our opinion, it is better to purchase a processor that can balance performance in both 3D modeling and rendering tasks.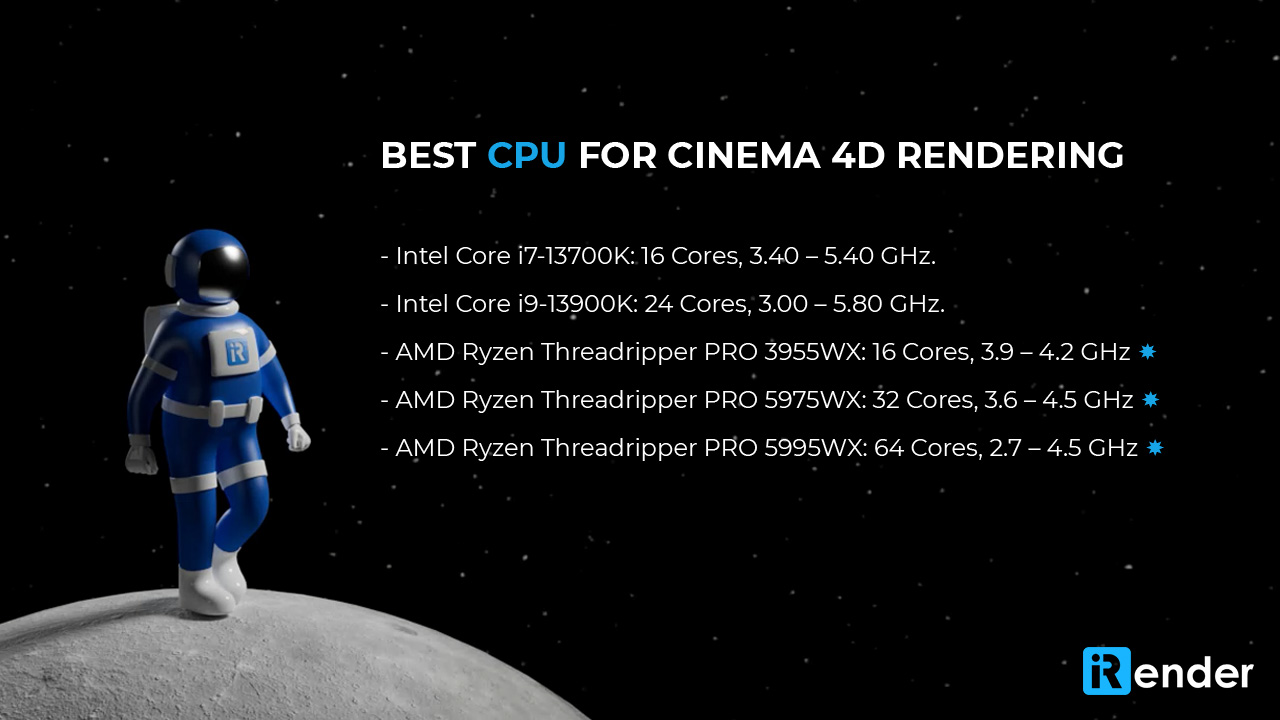 Best CPU for Cinema 4D rendering
Intel Core i7-13700K: 16 Cores, 3.40 – 5.40 GHz.

Intel Core i9-13900K: 24 Cores, 3.00 – 5.80 GHz.

AMD Ryzen Threadripper PRO 3955WX:

16 Cores, 3.9 – 4.2 GHz.

AMD Ryzen Threadripper PRO 5975WX:

32 Cores, 3.6 – 4.5 GHz.

AMD Ryzen Threadripper PRO 5995WX:

64 Cores, 2.7 – 4.5 GHz.
In Cinema 4D, a good graphics card is necessary to display the 3D graphics you create smoothly. For example, when you rotate, zoom, or pan around the model you are working on. Though Cinema 4D itself does not include a GPU render engine, you can buy and use a third-party GPU render engine for GPU rendering.
When it comes to GPU rendering (with GPU render engines such as Redshift, Octane, Arnold GPU, V-Ray GPU, etc), it is necessary to get one or multiple strong GPUs to speed up your process. The speed and amount of VRAM in your GPU are the two key criteria that determine how well it performs. A powerful graphics card will substantially shorten your render time, while a larger VRAM capacity assures that your complex, detailed scene fits into memory and does not cause problems.
So, if budget is not an issue, we suggest purchasing the most powerful GPU with the most VRAM capacity available.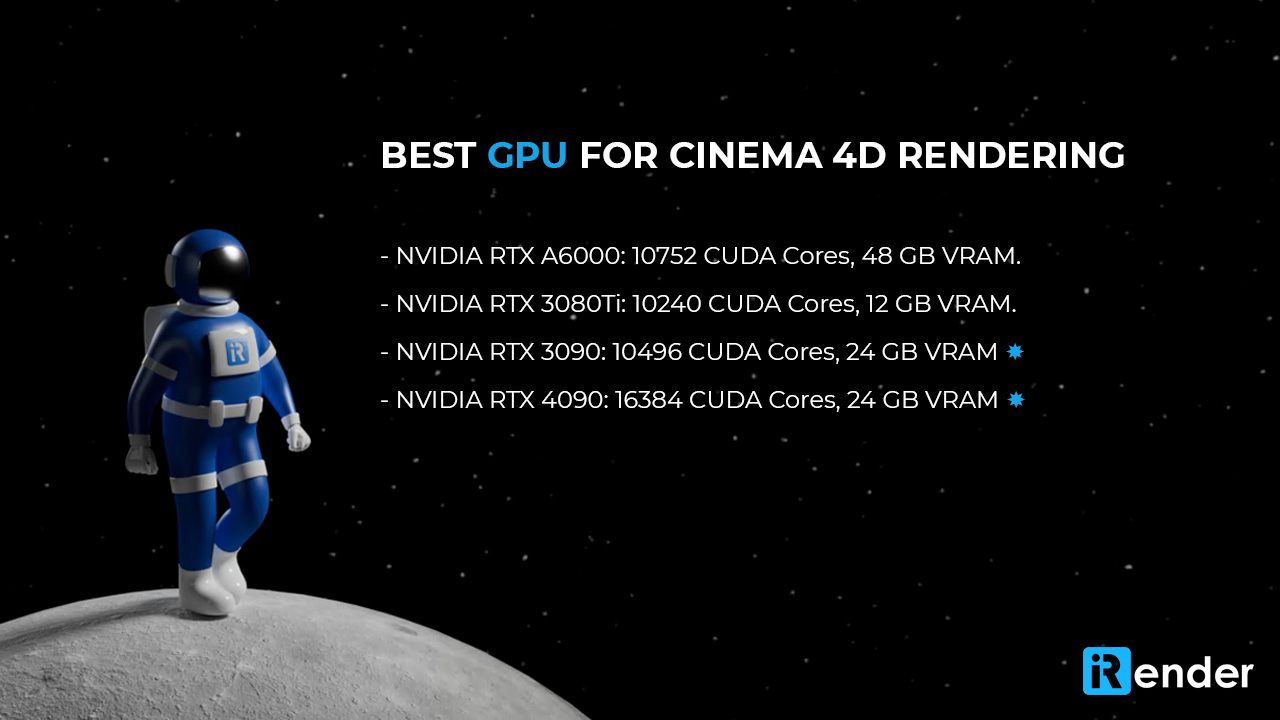 Best GPU for Cinema 4D rendering
NVIDIA RTX A6000: 10752 CUDA Cores, 48 GB VRAM.

NVIDIA RTX 3080Ti: 10240 CUDA Cores, 12 GB VRAM.

NVIDIA RTX 3090: 10496 CUDA Cores, 24 GB VRAM.

NVIDIA RTX 4090:

16384 CUDA Cores, 24 GB VRAM.
Maxon Cinema 4D has been a favorite 3D software for many 3D professionals. There are a dozen of external render engines for C4D, other than the two built-in Advanced and Physical Renderer. For GPU rendering, Redshift and Octane are the best renderers for it. Moreover, a strong CPU and GPU will enable you to render smoothly and effectively in Cinema 4D.
Cinema 4D users can also take advantage of cloud render farms such as iRender to use high-end hardware and meet the high demand of projects. Explore the possibilities with iRender Farm now.