Nvidia GeForce vs. AMD Radeon - Which GPUs should we get in 2023?
AMD and Nvidia are the two biggest graphics card manufacturers. For years, Nvidia's graphics cards comfortably outperformed AMD, but AMD's Radeon RX 7000-series lineup has brought the two companies into a battle like never before. The Nvidia processors typically have higher power, which is the most fundamental distinction between AMD GPUs and Nvidia GPUs. Particularly at the top end, AMD cards are more cost-effective and have a friendlier user interface.
AMD's budget cards offer good value at a reasonable cost, even though there isn't much that separates them from their top-of-the-line models. Whether you choose an AMD or Nvidia GPU, you'll receive a strong GPU with lots of features. In this article today, we'll discuss the broad overview of the face-off, beginning with a short comparison. 
What are AMD and Nvidia GPU?
Image Source: Appleinsider
Since 2006, when AMD purchased the graphics company ATI, they have been making GPUs that are becoming increasingly competitive, slowly reducing the market share held by Nvidia. AMD's mid-range GPUs provide outstanding value for the money, even though they still fall short of the perfect ray tracing capabilities found in all but their most expensive cards. AMD GPUs are well-known for their user-friendly control panel and extensively praised for their determination to keep their technology open-source, in addition to the extremely powerful Radeon RX 6800 and incredibly well-liked budget graphics cards like the RX 6600.
When it comes to graphics cards, Nvidia GPUs continue to hold the top spot thanks to their unmatched ray tracing and anti-lag capabilities. The recently introduced RTX 4090 costs as much as some complete PCs, so you have to pay money to own the RTX 4090.
Short Comparison between AMD and Nvidia
Below are some salient points between AMD and Nvidia Graphics cards:
AMD graphics cards:
Generally use less power

Better for Linux

Often offer more VRAM.
Nvidia graphics cards:
Offer the most power and higher levels of performance

Better for ray tracing

Lead the way on 4K gaming and work

Have excellent features like DLSS and Framerate Generation
AMD GPU vs. Nvidia: Gaming performance
In addition to the essential specifications like clock speed and video RAM (VRAM), you should consider how different GPU models balance texture quality and frame rate for specific games. However, choosing between AMD or Nvidia for your gaming rig can get complicated when you consider more advanced features.
Nvidia's Deep Learning Super Sampling (DLSS) technology, which enhances ray tracing, an AI-enabled rendering approach that can simulate light effects with astonishing realism, may be worth the extra cost if you value better visual capabilities for a truly immersive experience. AMD employs a similar method called FSR, but it hasn't quite mastered the ability to convey the atmosphere of sunshine piercing through fog and other atmospheric experiences with the same level of realism.
Image Source: Tom's Hardware
As you can see in the summary chart above showing GPU performance at 4K and 1440p resolutions, the RTX 4090 series is at the top of the chart.
AMD vs. Nvidia GPU: Adaptive sync
Image Source: MSI
When it comes to adaptive sync, the capacity to dynamically modify the display refresh rate to correspond with the GPU frame output, AMD and Nvidia are essentially neck-and-neck. The FreeSync tool from AMD outperforms G-Sync in terms of absolute performance by a small amount.
Testing has demonstrated that Nvidia's adaptive sync technology can produce output with less latency and of higher quality. FreeSync and G-Sync are technologies developed by AMD and Nvidia respectively. FreeSync monitors could only work with AMD GPUs, and G-Sync monitors could only work with Nvidia GPUs. However, some FreeSync monitors are G-Sync compliant, making it possible to use them with an Nvidia GPU. 
FreeSync from AMD reduces response times but may cause ghosting. Because FreeSync-compatible hardware is less expensive and the differences between G-Sync and FreeSync are small, choosing Nvidia's G-Sync could result in significantly higher costs for a performance boost.

Because of its unparalleled raw performance, Nvidia's G-Sync remains a gaming favorite. However, among AMD's other cost- and compatibility-saving benefits, the FreeSync function is also available on the latest Xbox and PlayStation consoles.
Image Source: Chillblast
In general, the price of AMD graphics cards is always cheaper than Nvidia's direct competitors.
You can buy good budget AMD choices for as little as $200–$250 nowadays, especially with two fantastic generations from which to choose cards. These cards offer dependable performance, and a ton of contemporary features, and will be ideal for working and gaming at 1080p.
The new, 'lower-level' 40-series cards, like the 4090, are excellent choices in this category, but AMD also broadens your options there with models like the RX 7000. The most expensive card available is Nvidia's RTX 4090, which retails for over $1,500. The RTX 4080 is still more than $1,100. The Radeon RX 7900 XTX, AMD's top-tier offering, costs just over $1,000 at retail.
AMD vs. NVidia: Which is the best?
Choosing which card line will depend on your specific project. If you're on a tight budget and are looking at something in the middle of the spectrum, AMD would be a better choice. But if you are looking for more advanced cards, for gaming, creative work or anything else then Nvidia will be the perfect choice.
It's hard to say if Nvidia is better than AMD, because both brands have a lot to offer depending on your budget and performance needs. Both AMD and Nvidia's high-end cards achieve similar performance results. You need to find a GPU that delivers the user experience you need with the right balance between price and performance.
Instead of investing a large amount of money to own the Nvidia RTX 4090/4080 card series, you can refer to render farms. iRender offers many high configurations from 1/2/4/6/8 RTX 4090/3090s.
Boost Your Render Faster with iRender Farm
iRender gives you an affordable solution for all 3D artists to unleash their creativity with the beast RTX 4090/3090s from only 8.2 USD/hour. iRender is a Professional GPU-Acceleration Cloud Rendering Service provider in PC optimization for rendering tasks, CGI, VFX with over 20.000 customers and is appreciated in many global rankings. We offer high configurations machines from 1/2/4/6/8 GPU servers using the top-tier RTX 4090 and RTX 3090. Almost servers at iRender are powered by powerful AMD Ryzen Threadripper PRO CPUs with up to 64 cores, 256GB RAM, and 2TB NVMe SSD storage. This is the only render farm where users can install any software and plugins that serve their project, take full control over the machine, and use it as their local computer. 
Recently, we launched iRender app for Windows users. This application is very convenient, you just download it for free and a workflow with iRender will be built-in:
Especially, this month, we offer for all users can use 1 of our Redshift/Cinema 4D licenses. We also have the option to pre-installed C4D and Redshift, you won't take much time to install them. 
Create an ACCOUNT now to enjoy the big deal!
This month, we have special deal for your Fall projects from 07th – 20th September.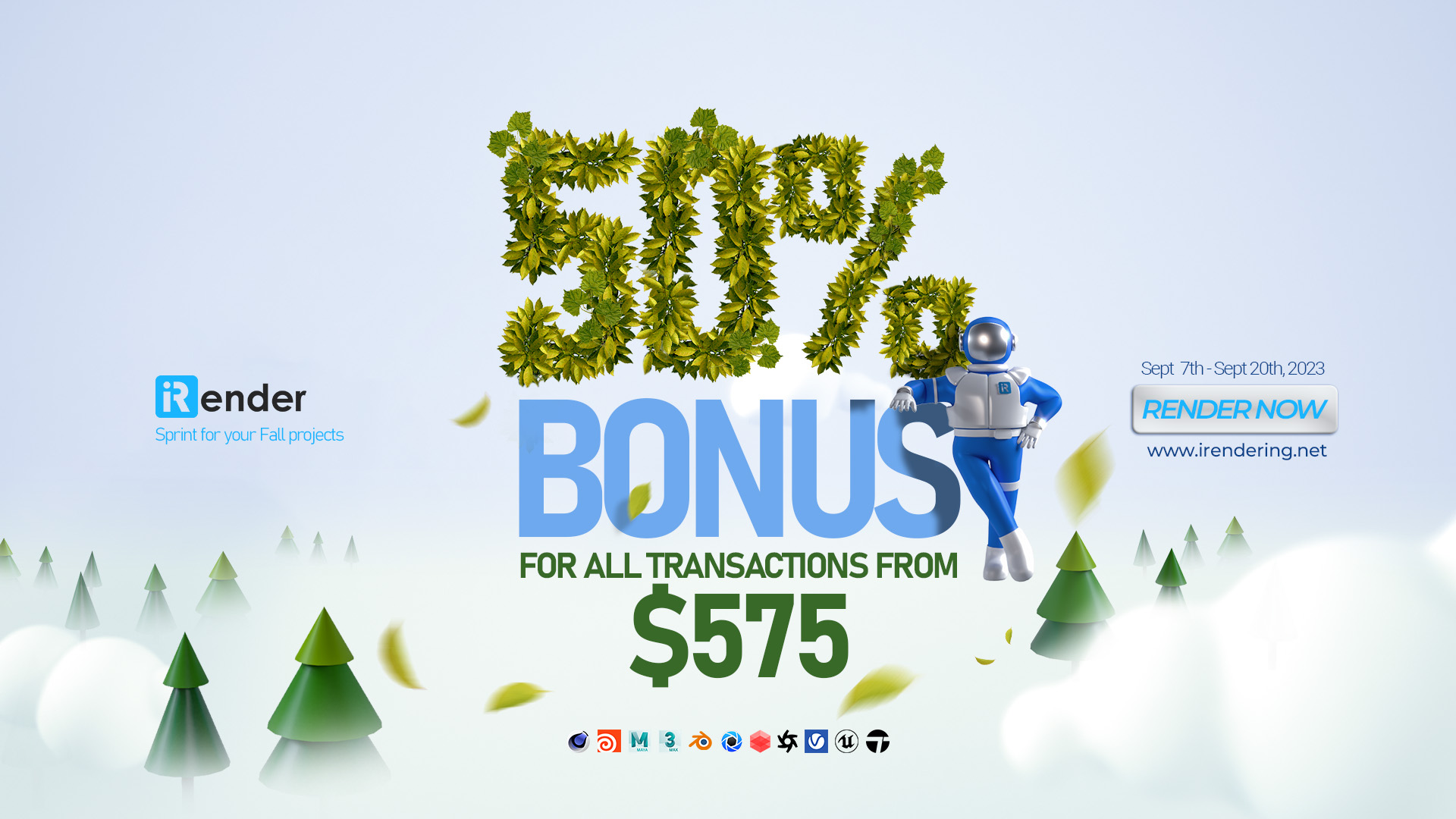 For further information, please do not hesitate to reach us at [email protected] or Whatsapp: +(84) 916017116. 
iRender – Happy Rendering!