NVIDIA Omniverse enables 3D evolution of the internet
We hear a lot about the word "metaverse" ever since Mark Zuckerberg rebranded Facebook as Meta. So, what exactly is the metaverse? It is not easy to define when its application is still in the future. One from Omniverse explains that the metaverse is the internet in 3D, a network of connected, persistent virtual worlds. And Omniverse is considered a platform for developing and running metaverse applications.
In this article, iRender explores how NVIDIA Omniverse enables 3D evolution of the internet. In other words, the role of Omniverse in the 3D industry using collaboration and sharing on the USD standard.
What is NVIDIA Omniverse?
Omniverse, according to NVIDIA, is a platform for virtual collaboration and real-time, physically accurate simulation. Omniverse serves as a central hub for connecting and enhancing 3D creative apps, uniting content, libraries, and tools for a completely seamless workflow. Moreover, it transforms complex 3D workflows for individuals and teams. It enables real-time interaction across multiple users, multiple locations, and multiple applications.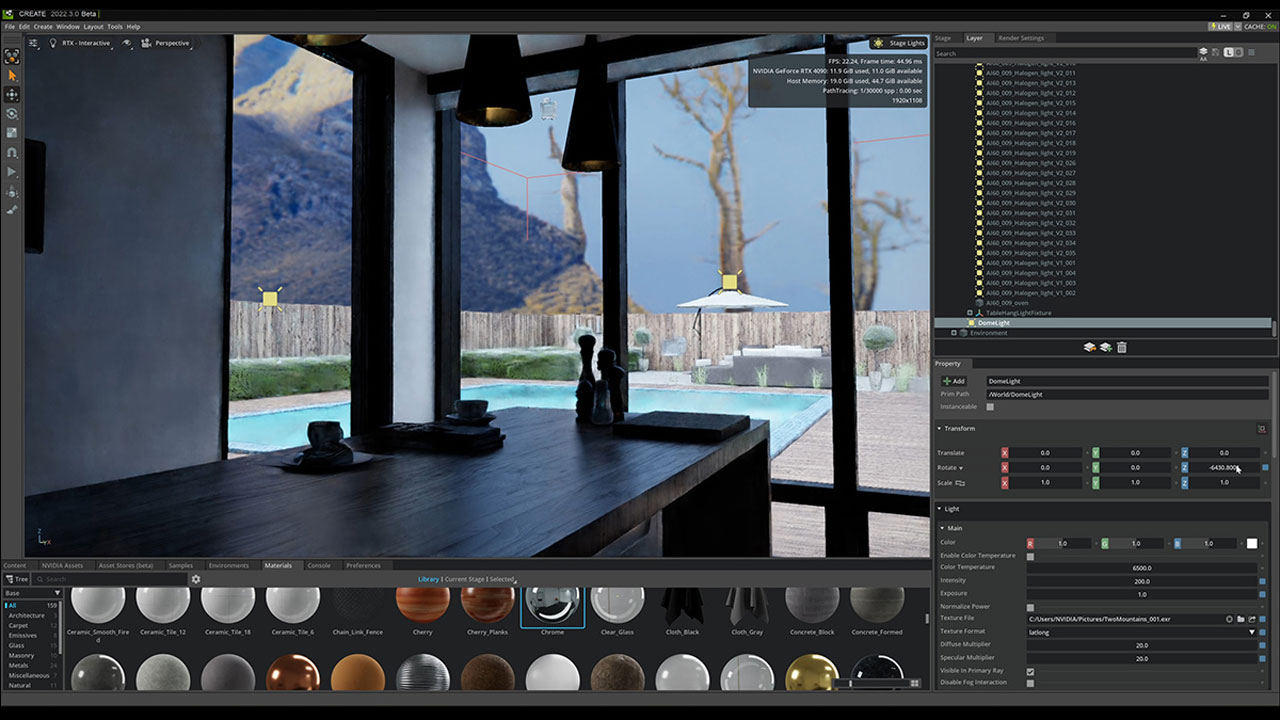 Omniverse USD Composer for Accelerated 3D World Building. Image: NVIDIA
Creators, designers, researchers, and engineers. They are able to work together by connecting tools, assets, and projects in a shared virtual platform.
Omniverse is based on open standards and protocols, including Pixar USD.
USD, which is short for Universal Scene Description, is originally created by Pixar Animation Studio to solve its production concerns. Other than being just a file format, USD works as an ecosystem for describing, composing, simulating, and collaborating within 3D worlds. 
Thanks to its power and versatility, USD is widely adopted, not only in the visual effects community, but also in architecture, design, robotics, manufacturing, and other industries. This also explains USD has support in many DCC applications and ecosystems. Omniverse is built on USD, as a result, it connects to many industry-leading 3D tools. Including your favorite ones, from 3D software (3ds Max, Maya, Cinema 4D, Houdini, Blender) to render engines (Redshift, Octane, Arnold) to real-time game engines (Unreal Engine, Unity). You can look at the full USD connections to Omniverse below.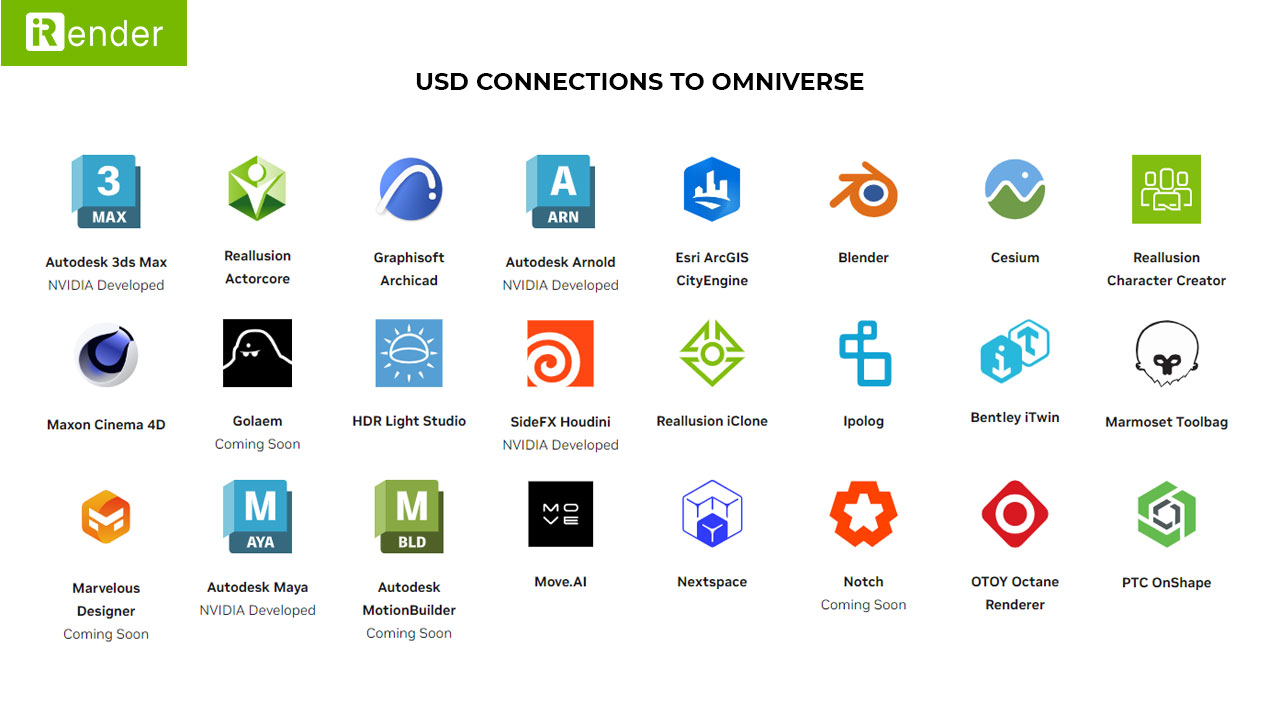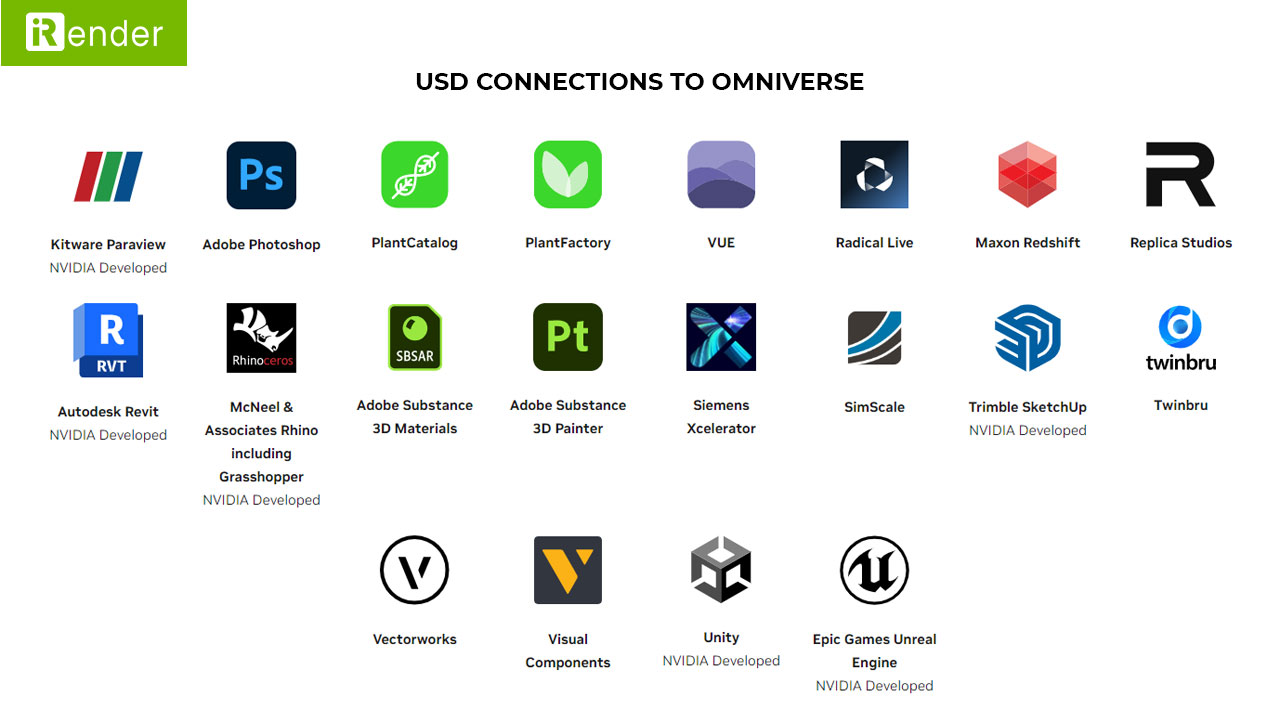 Image Source: Omniverse
What hardware does Omniverse require?
NVIDIA Omniverse is designed to work on any RTX-capable system. It runs with multiple GPUs and scales the RTX computing as the workloads increase.
To run Omniverse (and other applications), you need at least RTX-enabled GPUs with 8 GB VRAM. However, it is recommended to have RTX-enabled GPUs with 24 to 48 GB VRAM.
RTX 4090 is currently the fastest GPU from GeForce RTX Series and has a great amount of 24 GB VRAM.
NVIDIA Omniverse enables 3D evolution of the internet
Multiple apps in one platform
Working and creating in 3D workflows is tough work with a variety of specialized 3D apps and customized plugins. From artists to designers and architects, they use many different software and applications at different stages in the production process. One may have to learn or adapt to a new software because the studio uses X or Y solutions. Is there any way for artists to still use their preferred 3D applications and seamlessly connect to the pipeline of the team or company?
Omniverse is the answer to that question. It frees artists from complex 3D workflows by integrating different pipelines into one single solution. You are able to use the tools you need and are familiar with (rather than those required by the workflow), and simultaneously collaborate with the rest of the team in one Omniverse platform.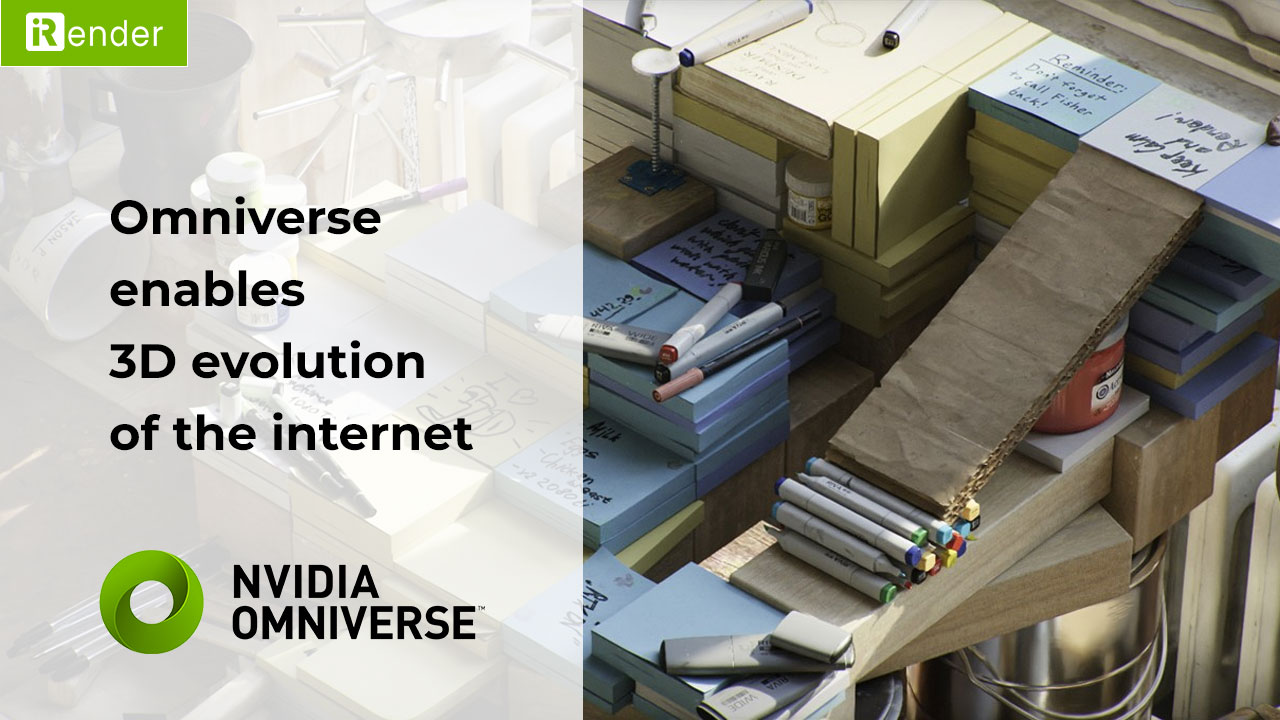 Real-time and collaborative
At this time, it is very common for a studio, or company to have creative teams and artists working from different locations around the world. However, the cycles between content creation and final review are pretty long in traditional production pipelines with offline renders. Since production teams need hours to render and transfer terabytes of data in a studio, or globally between locations, they can not get immediate feedback on changes. Therefore, they need a solution enabling them to work more efficiently and accelerate content creation pipelines.
Omniverse enters the picture, reinventing the artist experience with real-time and collaborative workflows. At any step in the pipeline, artists from all around the world can come together to work on a single scene. This decreases creation and feedback time, and makes ready products to reach the clients more quickly.
Physically accurate simulations
The most anticipated feature of Omniverse perhaps is the capability to develop large-scale simulations that are physically accurate. The assets, processes, and environments from our physical world are simulated accurately to physics, materials, lighting, rendering, and behavior. Not only that, the simulations are live and synchronized to the real world. The simulations the platform creates definitely will be applied widely, from concept design for animated movies to digital twins for industrial and scientific uses.
Let's take a look at Marbles, a fully playable physics-based game by the Omniverse team.
Faster rendering, faster iterations
Path tracing and render quality are the important benefits of NVIDIA Omniverse. It is designed to leverage the computing power of NVIDIA RTX GPUs from its own developer. Thanks to the power of NVIDIA RTX graphics cards and ray tracing technology, the RTX Renderer within the platform allows artists to view changes, and render photorealistic, physically accurate images in real time.
Besides the platform itself, the huge computing power from one or many top-notch GPUs (such as RTX 4090) is the key point to enabling complete freedom for the artist's expression.
All in all, Omniverse, which is based on RTX technology and USD, is an open platform to enhance workflows for virtual collaboration and simulation in real time. From content creators to architectural designers and archaeologists, they can simultaneously collaborate and interact with each other in a shared virtual space. 
NVIDIA Omniverse with its core of USD standard not only makes us work easier and more effectively, but it also will be the future of 3D production workflows.
iRender is happy to be a part of the future. Not only does our render farm support NVIDIA Omniverse but we also offer huge and scalable computing power from RTX 4090 servers. Try iRender Farm now and enjoy the next level of rendering.