Best CPU, GPU, and Renderer for Autodesk Maya
Maya is a big name in professional animation and VFX software. You are wondering about the recommended system to work efficiently with the software? Come with iRender and find out the best CPU, GPU, and Renderer for Autodesk Maya.
Autodesk Maya is a professional 3D digital content creation application. It offers 3D animation, modeling, simulation, and rendering capabilities. The software is now owned and developed by Autodesk by it was originally created by Alias Systems Corporation. Top artists, modelers, and animators rely on Maya to create expansive worlds, realistic and complex characters, and dazzling effects. From fantastic creatures to sweeping landscapes and explosive battle sequences, Maya helps to bring animated and live-action films, TV shows, and video games to life.
Best Renderer for Autodesk Maya
Rendering is the final stage in the 3D computer graphics production process, adding surfaces, materials, lights, and motion into the final image or sequence.
For rendering, Maya includes two renderers: Maya software renderer and Arnold for Maya renderer. In addition to those two, there are a bunch of other third-party render engines that can be integrated into Maya. The external render engines support either CPU-based rendering or GPU-based rendering, or both. We can name Redshift, Octane, V-Ray, RenderMan, Iray, Maxwell Render, and others.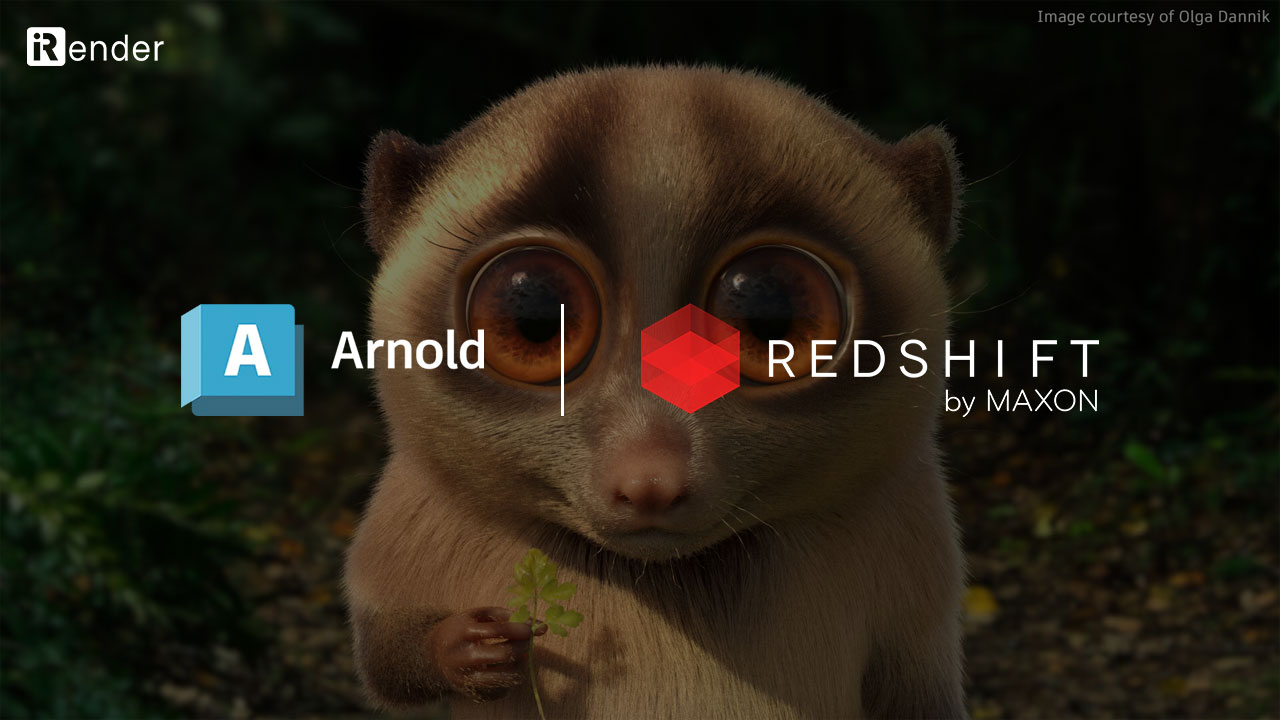 Image: Olga Dannik
Each rendering engine has its own strengths and is more suitable depending on your needs and different cases. However, in general, Arnold Renderer is an excellent renderer for Maya. Not only does it comes with Maya as default but it also has support for both CPU and GPU rendering. Needless to say, Arnold CPU is well known for its high quality and accuracy of the visuals. On top of that, the Arnold GPU is stable and can speed up the renders with multiple GPU support (up to 8 GPUs per session).
If you only use GPU rendering, Redshift Renderer is a great option as a third-party render engine for Maya. The renderer is best known for its lightning-fast rendering speed, but it is capable of much more. Redshift delivers photorealistic renders and has incredible features that allow for a quick turnaround time.
Best CPU & GPU for Autodesk Maya
So, depending on the render engine, you will need a very good CPU or GPU, or both to make the most out of your renders in Maya.
The majority of 3D design tasks in Maya (such as creating models, adding rigging, and performing animations) rely on one or two CPU cores. As a result, a CPU with high-frequency or high single-core performance is a superior choice for these workloads than a CPU with many cores.
However, when it comes to CPU rendering, the core count does play an important role. The number of cores (that a CPU has) directly affects the rendering speed of that CPU. In fact, most render engines can scale almost perfectly, which means a CPU with twice the number of cores doubles the performance. So, for CPU rendering, it is better to get a CPU with lots of cores.
The Autodesk website shows the requirement for CPU is very minimum. You will need at least a 64-bit Intel or AMD processor that is multi-core and has an SSE4.2 instruction set. For Apple Mac models, the M series chip is supported under Rosetta 2 mode.
An Intel or AMD processor with 6 or 12 cores is pretty good to get started. However, if you plan on doing a lot of CPU rendering in Maya, we would suggest a CPU with at least 16 cores or 32 threads.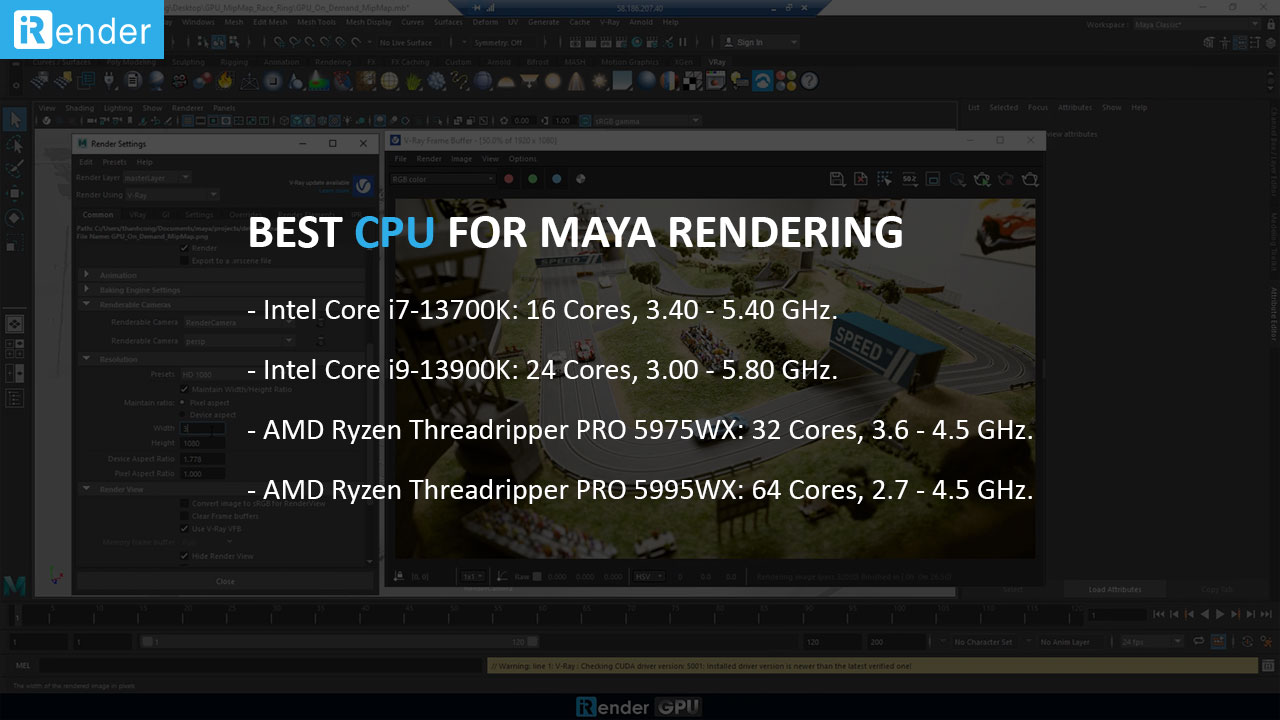 Best CPU for Maya rendering
Intel Core i7-13700K: 16 Cores, 3.40 – 5.40 GHz.

Intel Core i9-13900K: 24 Cores, 3.00 – 5.80 GHz.

AMD Ryzen Threadripper PRO 5975WX: 32 Cores,

3.6

–

4.5 GHz.

AMD Ryzen Threadripper PRO 5995WX: 64 Cores, 2.7

–

4.5 GHz.
Maya merely uses the GPU to display what the CPU has previously calculated for most tasks such as rotating, zooming, or panning around the model you are working on. Therefore, an average graphics card can handle those 3D tasks. A better card, of course, will result in a smoother and overall better experience.
Furthermore, when it comes to GPU rendering (with render engines), it is necessary to get a strong GPU or even multiple ones to speed up your process. There are two main factors impacting how your GPU will perform, that is the speed and amount of VRAM of your GPU. A robust graphics card will significantly speed up your render time, whereas a higher VRAM capacity ensures that your complex, detailed scene fits the memory and does not run into issues.
So if budget is not a problem, we recommend getting the most powerful GPU with a VRAM capacity as high as possible.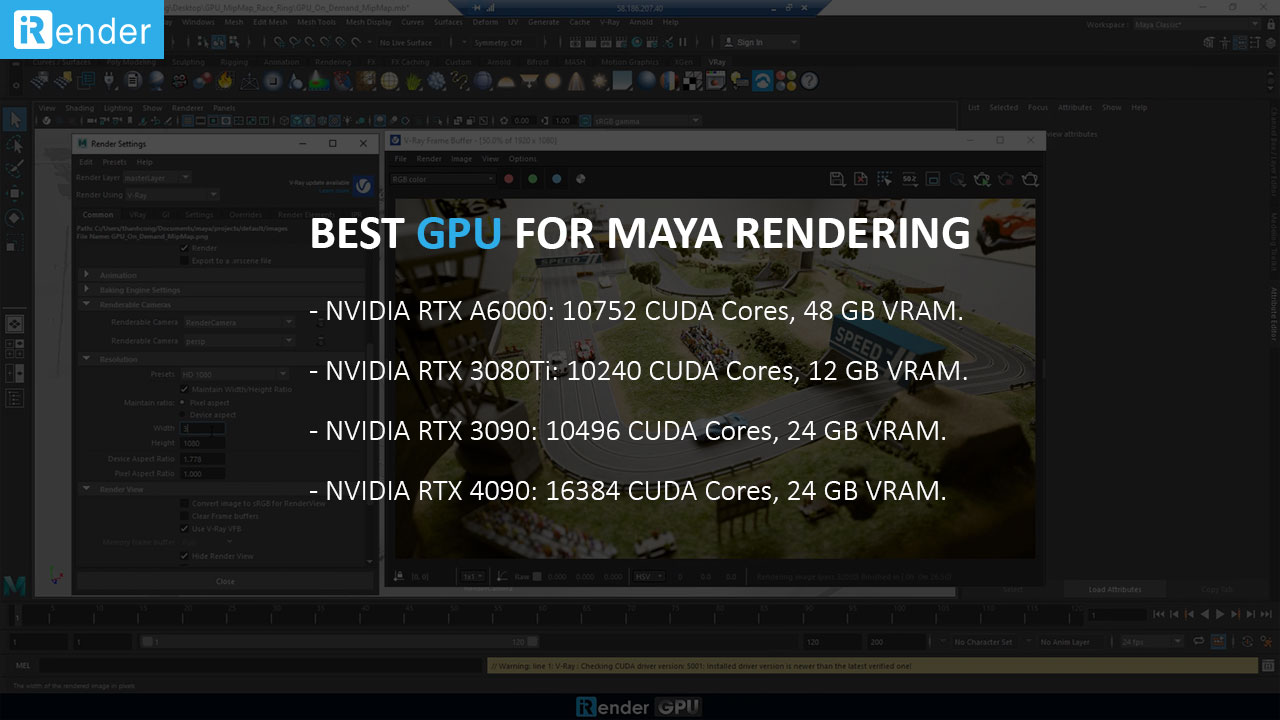 Best GPU for Maya rendering
NVIDIA RTX A6000: 10752 CUDA Cores, 48 GB VRAM.

NVIDIA RTX 3080Ti: 10240 CUDA Cores, 12 GB VRAM.

NVIDIA RTX 3090: 10496 CUDA Cores, 24 GB VRAM.
NVIDIA RTX 4090: 16384 CUDA Cores, 24 GB VRAM.
Autodesk Maya has certainly been one of the titans of the 3D industry, with integration with several render engines. But for GPU rendering, Redshift and Arnold GPU are among the best renderers for it. Moreover, a strong CPU and GPU will enable you to render smoothly and effectively in Maya.
Maya users can also rely on online render farms such as iRender Farm to provide high-end hardware and meet the high demand of projects. Try iRender Farm now and explore the possibilities.