Why Pixar USD is the new standard in the 3D industry?
Pixar USD is the first open-source software that can interchange 3D scenes in a reliable and flexible manner. It is not just the foundation of Pixar's workflow, but it has also revolutionized animation and visual effects. 
In this article, iRender explores why Pixar USD is the new standard in the 3D industry.
The beginning of a new standard
Pixar has a long history of developing tools for artists from multiple departments to collaborate more easily. And USD is the fruit of many years of experience of its research and development team. Of course, USD is not the first tool developed at Pixar. Before it, there are Marionette, Presto, and TidScene. So, we can say USD is the fourth generation of "composed scene description" software by the company.
The USD project started in 2012. It aimed to combine Presto's composition engine and low-level data model with TidScene's lazy-access, time-sampled data model and lightweight scene graph. On top of that, a crucial component of the USD project was the creation of Hydra which is a new, scalable rendering framework. Then, in 2016, Pixar published its USD software under an open-source Apache license.
It marked the birth of a new standard in the 3D industry. Since its release, USD has been quickly becoming the standard for all companies and industries that leverage 3D. A variety of 3D DCC packages have integrated USD, including big names such as 3ds Max, Maya, Cinema 4D, Houdini, Blender, RenderMan, Redshift, Arnold, Unreal Engine, and others. Besides, USD is the foundation of many other innovative tools and technologies. An example is NVIDIA Omniverse, a live collaboration platform that connects a wide range of content creation tools.
Why Pixar USD is the new standard in the 3D industry?
So what exactly is Pixar USD? Well, USD stands for "Universal Scene Description". It is a file format that describes a scene graph containing anything from geometry to animation, lights, cameras, materials, and shaders. That scene graph for a USD file can also reference other USD files, or composite the files on top of each other, pretty much like how Photoshop layers work.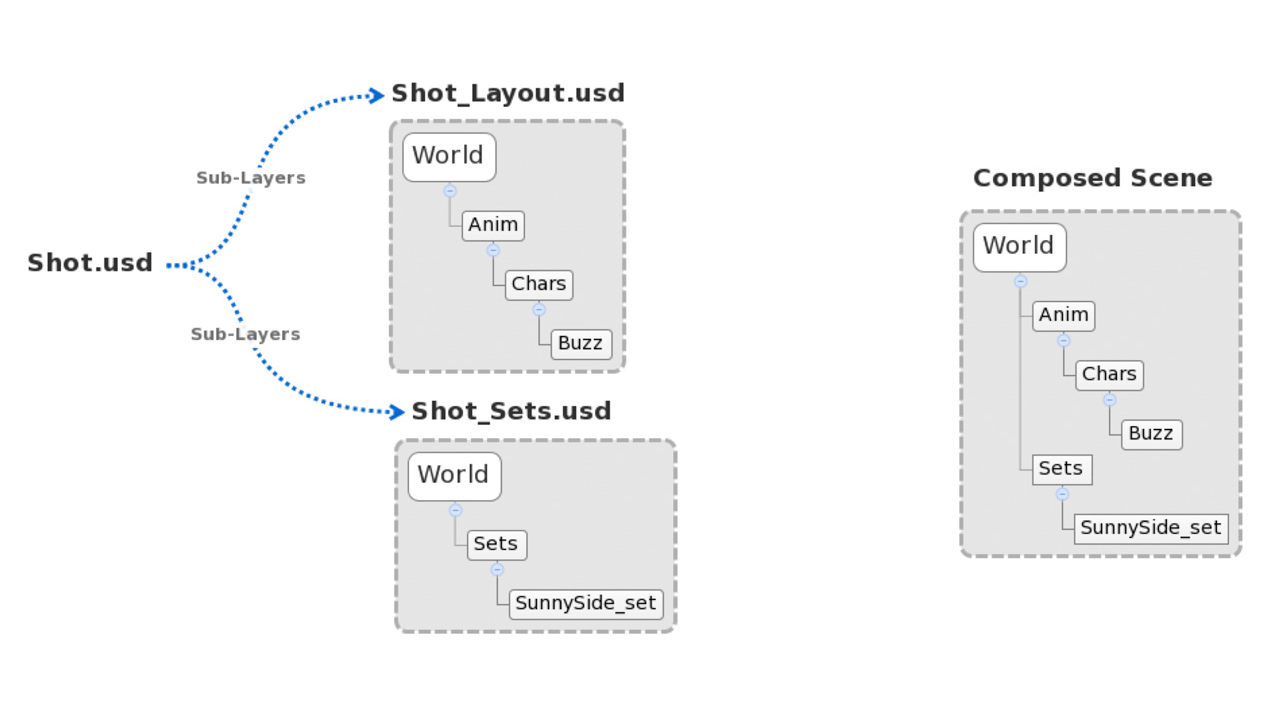 USD Layers. Image: Pixar
Why should I use Pixar USD?
Pixar USD is a single place where you can describe your entire scene in one open file format. It provides a rich common language for packaging up, assembling your scenes, and editing that 3D data. In other words, it enables broader use of multiple DCC packages and enhances the communication between them. It also allows many artists to collaborate on the same assets, same shots, same scenes, or same sequences. 
Let's take a closer look at this. Below is a standard production pipeline from Pixar.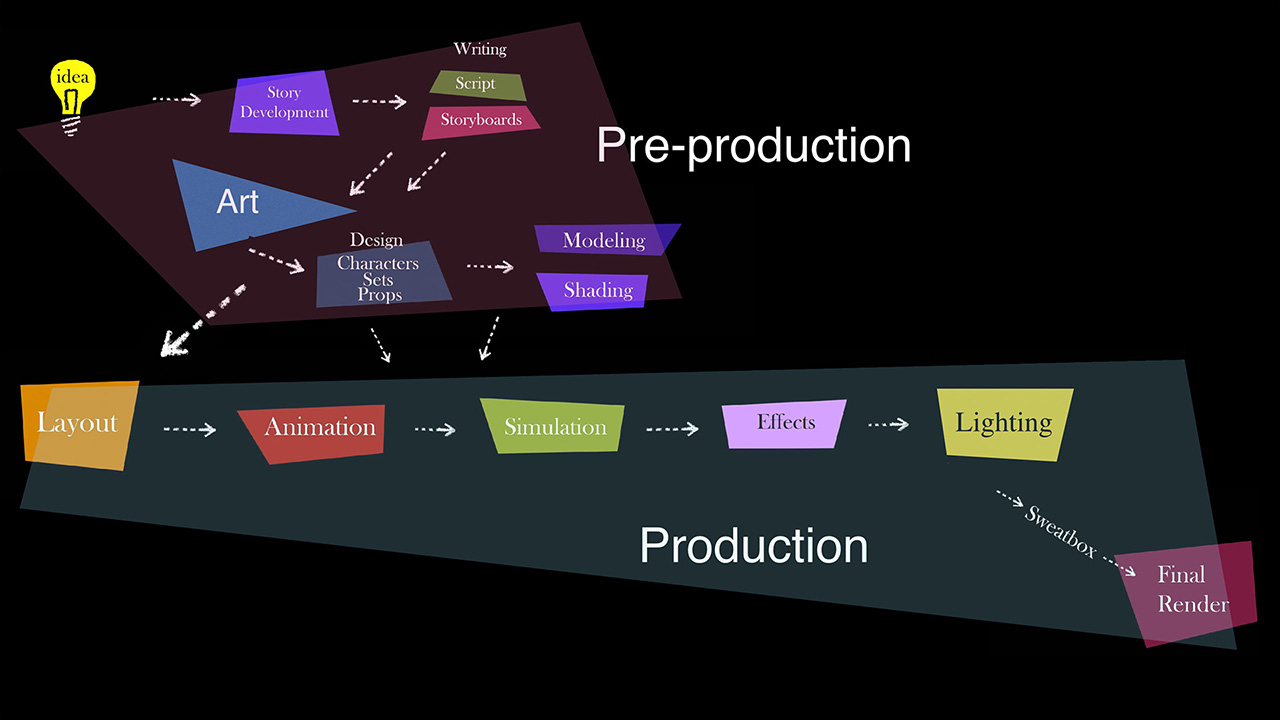 Standard Pixar pipeline. Image: Pixar
So in the traditional pipeline, departments collaborate in a linear way to produce a final frame. It also means a department has to wait for the previous ones to complete their tasks in order to make progress. For example, the animation team can not start without the finished character models.
To deal with that collaborative issues, the R&D team from Pixar developed USD software. It can describe the work from all departments (models, animations, materials, lights, cameras, and other typical necessities in a production environment) without getting in their way. Therefore, you can experiment or improve your work with USD without affecting other departments.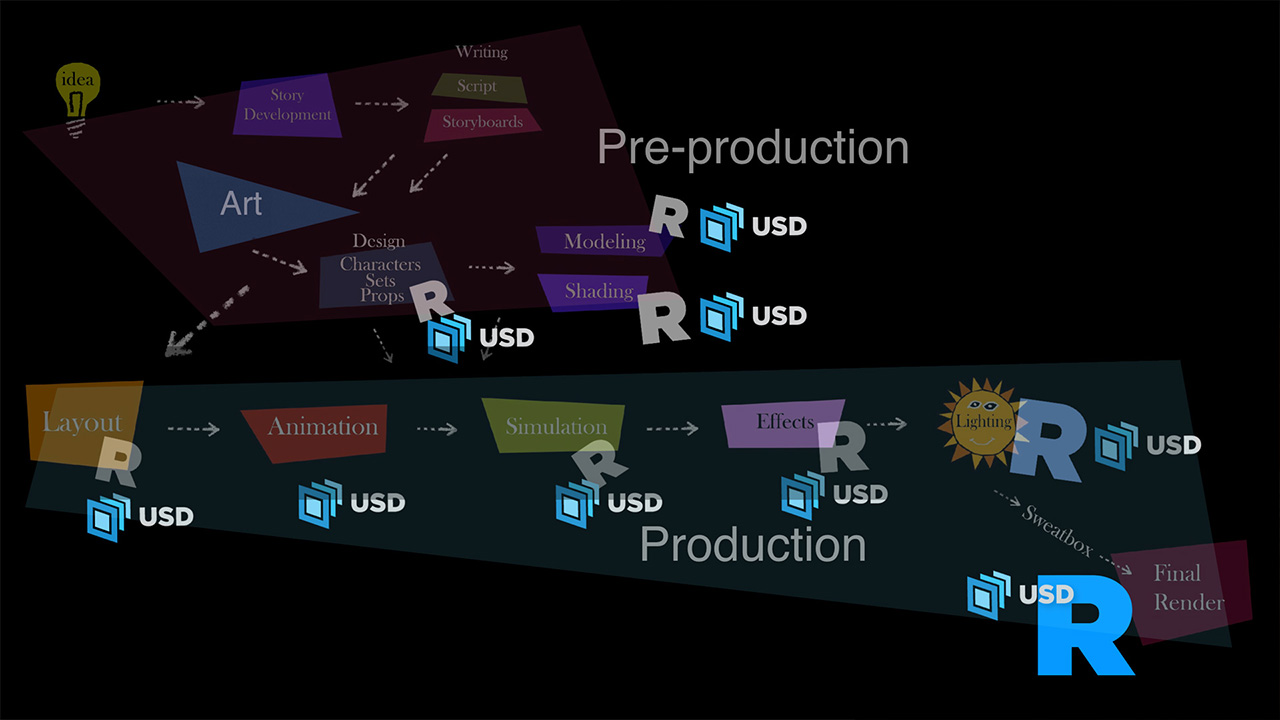 USD participates in many stages of the Pixar pipeline. Image: Pixar
All in all, USD makes collaborative workflows highly predictable. More importantly, it allows artists to focus on creative endeavors rather than data management. 
Pixar USD and render farm
Pixar USD impacts how scenes are prepared for rendering locally or on a render farm. Because USD is widely used as a 3D file standard, scenes can be quickly imported to render engines and render farms. You do not need to rework the whole scene or rebuild the lighting and shading of it. Furthermore, its Hydra enables artists to render a scene using several render engines, whether for look development, preview, or final rendering.
To summarize, USD with Hydra can improve rendering dramatically, particularly for large-scale renders. As a result, studios can save costs for rendering on both local and online render farms.
Talking about online rendering, iRender is your powerful and scalable cloud render farm. We support all 3D software and render engines (including ones using USD), and speed up your renders with our multiple RTX 4090 cards. But iRender is more than that. You not only can render on our servers but also perform any step in the production pipeline. Try iRender Farm now and explore the possibilities.