Best CPU, GPU, and Renderer for SideFX Houdini
SideFX Houdini is a very powerful tool designed to create the highest-quality cinematic results. It needs strong systems for a smooth working workflow. Find the best CPU, GPU, and Renderer for SideFX Houdini with iRender.
SideFX Houdini is a 3D animation and visual effects software for use in film, television, commercials, and video games. It uses a node-based procedural workflow that provides an unprecedented level of power, flexibility, and control for digital artists. On top of that, Houdini comes with a comprehensive feature set covering all the major areas of 3D production. That includes modeling, rigging, animation, dynamics, particle effects, rendering, compositing, and others.
Houdini is available for the macOS, Linux, and Windows operating systems.
Best Renderer for SideFX Houdini
SideFX Houdini includes two render engines, which are Mantra and Karma. They are both physically-based path tracers and have deep integration with Houdini. However, there are certain differences between Mantra and Karma. The main difference is that Karma renders using the USD format and can only be used from within the Solaris LOP context while Mantra does not work with USD. Moreover, Karma is intended to take over render duties from Mantra.
Houdini also lets you integrate third-party renderers such as RenderMan, Arnold, Redshift, OctaneRender, V-Ray, ProRender, and 3Delight. Let's take a look at major render engines for Houdini.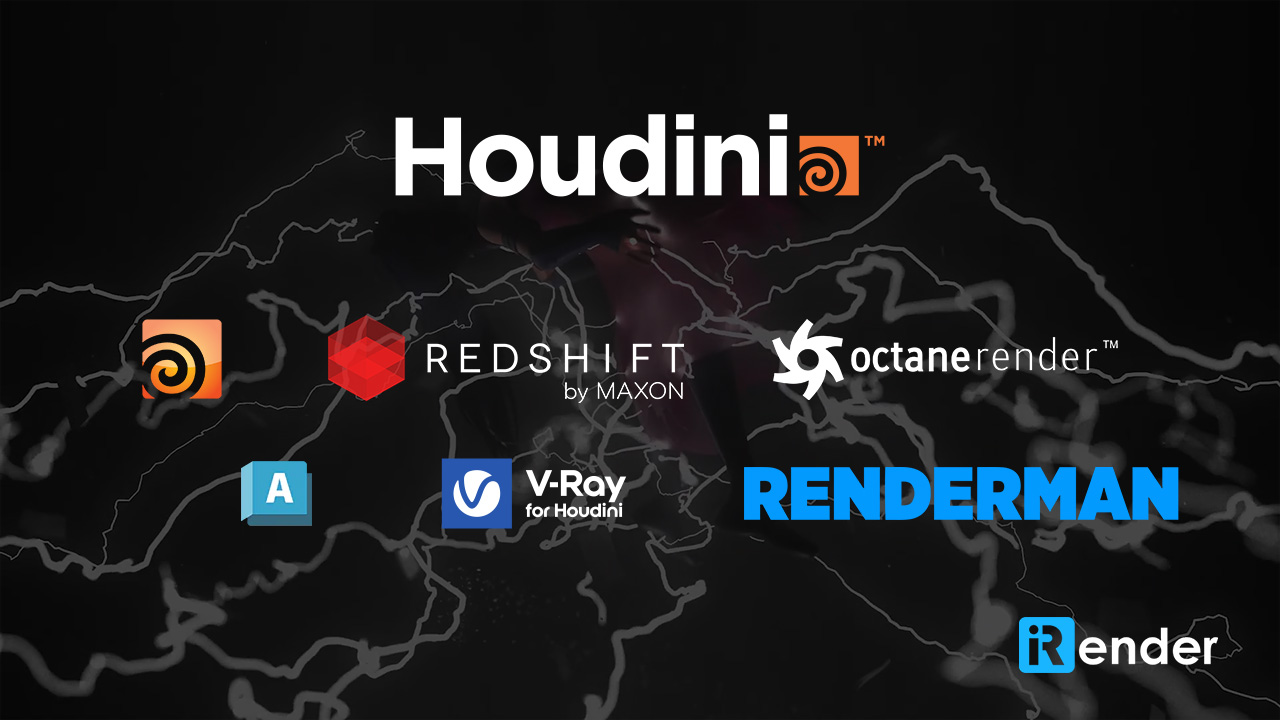 | | | |
| --- | --- | --- |
| Render engines | GPU rendering | CPU rendering |
| Mantra | | ☑️ |
| Karma | ☑️ | ☑️ |
| RenderMan | ☑️ | ☑️ |
| Arnold | ☑️ | ☑️ |
| Redshift | ☑️ | ☑️ |
| OctaneRender | ☑️ | |
| V-Ray | ☑️ | ☑️ |
| Maxwell Render | ☑️ | ☑️ |
| ProRender | ☑️ | ☑️ |
| 3Delight | | ☑️ |
You can see that you have quite a few options when rendering in Houdini. Yet, in our opinion, the top three render engines for Houdini are Mantra, Karma, and Redshift. Mantra and Karma is native to Houdini so they are so powerful and deliver stunning results. Mantra has a wider set of tools and features than Karma CPU or Karma XPU. However, its slow render time is a big disadvantage. The new renderer Karma which works with USD is faster and more adaptable. On the other hand, Redshift, as a biased GPU rendering engine, has a super fast rendering speed. Besides, Redshift is affordable and has great integration with Houdini.
Best CPU & GPU for SideFX Houdini
Whether you will need a decent CPU or GPU, or both depends on the render engine you use. The best CPU and GPU will make the most out of your renders in Houdini.
Depending on different tasks in Houdini, you may need different processors. First of all, modeling and animation, those kinds of tasks mostly require a single core. Therefore, a processor with a high clock speed is the best. However, for simulation and rendering tasks, a lot of cores of the CPU come into play. Some simulations, particularly fluid dynamics, can benefit from having more cores – improving performance. Also, CPU-based rendering (in Mantra, Karma CPU, RenderMan, Arnold CPU, etc) uses a large number of cores effectively.
On the SideFX website, Houdini's creator publishes the minimum requirements to run the software. It is required to have an Intel or AMD x64 processor with an instruction set SSE 4.2.
So, we think AMD Threadripper PRO processors are an ideal CPU for Houdini. They have many cores and have a good clock speed.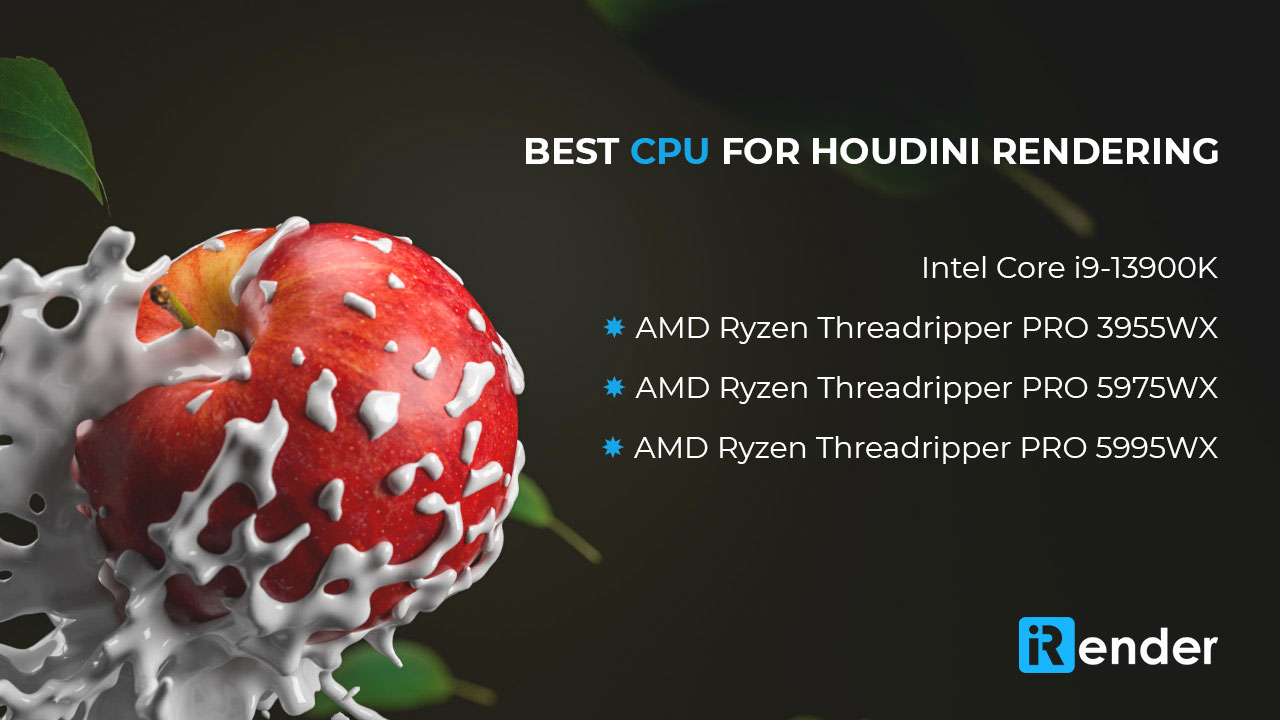 Best CPU for Houdini rendering
Intel Core i9-13900K: 24 Cores, 3.00 – 5.80 GHz.

AMD Ryzen Threadripper PRO 3955WX: 16 Cores, 3.9 – 4.2 GHz.
AMD Ryzen Threadripper PRO 5975WX: 32 Cores, 3.6 – 4.5 GHz.

AMD Ryzen Threadripper PRO 5995WX: 64 Cores, 2.7 – 4.5 GHz.
The graphics card is in charge of showing the viewport in Houdini, as well as any animation and effects that are displayed in it. A moderate GPU from the NVIDIA GeForce series can handle that task very well. However, we need more than that when it comes to GPU rendering (in Karma XPU, Redshift, Octane, V-Ray GPU, etc). First, the raw speed of the GPU itself. The more powerful the graphics card is, the faster you render your Houdini projects. In addition, you can add multiple GPUs in one rendering system to further speed up the process. Redshift and Octane, for example, scale very well with multiple GPUs.
The second factor is the VRAM of the graphics card. How much VRAM you need depends on the complexity of your scenes. 8 to 12 GB VRAM should be fine for many users. But we recommend 16 to 24 GB of VRAM if you are going to work with larger or more detailed projects.
In our opinion, if budget is not a problem, NVIDIA RTX 4090 is the best GPU for Houdini. Since it is the currently fastest card and has a great amount of onboard memory – 24 GB VRAM.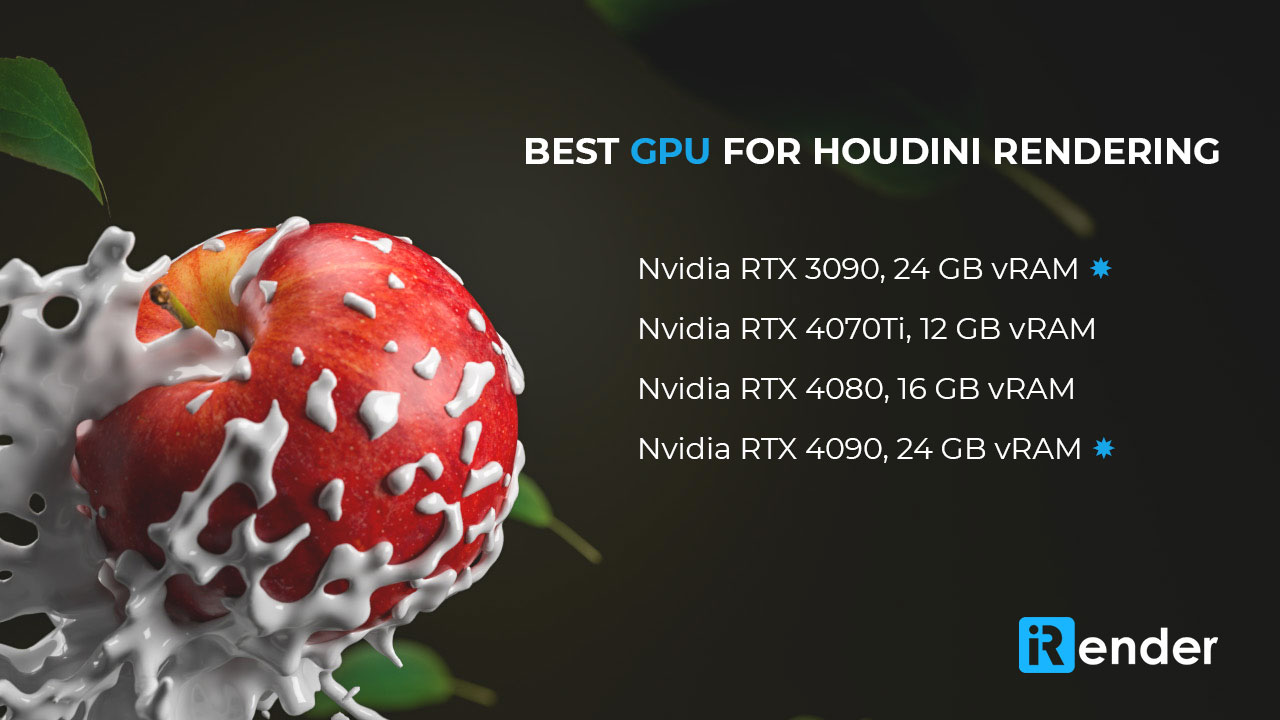 Best GPU for Houdini rendering
NVIDIA RTX 3090: 10496 CUDA Cores, 24 GB VRAM.

NVIDIA RTX 4070Ti: 7680 CUDA Cores, 12 GB VRAM.

NVIDIA RTX 4080: 9728 CUDA Cores, 16 GB VRAM.

NVIDIA RTX 4090:

16384 CUDA Cores, 24 GB VRAM.
In conclusion, SideFX Houdini is a 3D modeling and visual effects application. Aside from the native Mantra and Karma, you can use several third-party rendering engines in Houdini. The fastest solution should be Redshift which is a GPU-based renderer. Moreover, we recommend some CPUs and GPUs for the best possible performance when rendering within Houdini.
Other than building a good workstation at work or at home, you can also use cloud rendering services such as iRender to complete Houdini projects on time and in a scalable way. Explore your possibilities with iRender Farm now.