How To Render with GPU in Redshift with iRender
One of the well-known render engines that can render GPUs is Maxon Redshift. Also, Redshift is a fully GPU-based rendering engine. However, a few people know how to render with GPU in Redshift as well as take full advantage of Redshift's features. Of course, incredible render times are one of the key advantages of GPU rendering over CPU rendering. Additionally, you can use the strength of many GPUs to accelerate rendering software's render speeds. Redshift integrates perfectly with many of the leading 3D software on the market like Cinema 4D, Houdini, Maya, etc. So, in this article today, iRender will explore how to render with GPU in Redshift!
1. How to use GPU in Redshift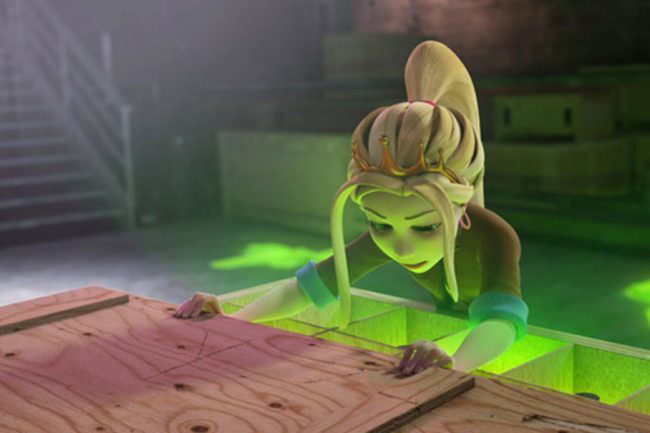 Image Source: Digital Media World
In Redshift, as well as most other GPU-based engines, the CPU does not play a direct role in the process of rendering scenes. Therefore, your system's video cards (or GPUs) have an impact on how long renderings take to finish. Without considering the number of cores, we advise choosing a CPU with a high clock speed. All of the servers at iRender have a high clock speed CPU, the fastest NVIDIA Card in the market ( including RTX 3090 and RTX 4090) which will help to boost your render faster. You can refer some of our servers as shown below: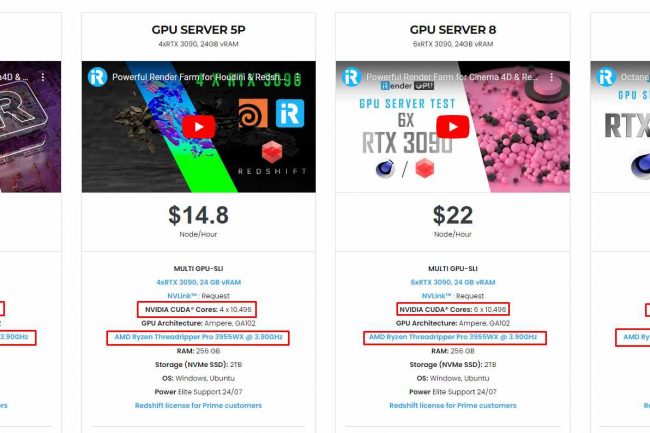 2. System Requirements for Redshift
2.1. The Minimum System
Infact, if you meet the minimum hardware requirements, Redshift will work fine. The minimum hardware specifications for Maxon Redshift are as follows:
OS: Apple macOS Big Sur (11.5 or later), Microsoft 64-bit Windows 10, and Linux 64-bit distribution with Glibc 2.17 or later.

RAM: 8 GB (16GB of RAMs or more – recommended).

Core i7 or Xeon equivalent, 3.0GHz or better.

NVIDIA GPU with 8 GB or more of VRAM and CUDA computation capability 7.0.

Apple M1 16 GB or an AMD "Navi" or "Vega" GPU with at least 8 GB of VRAM.

Single GPU (Multiple GPUs – recommend).
2.2. The Recommended Set up
In other words, it will be easier to use Redshift and less lag, crashes, and other problems if your hardware is better.
Operating system: Windows 8.1+, MacOS 10.13+, or Linux.

Storage space: 1TB

Display: 2560×1440, 24 bit (maybe even two).

CPU: AMD Chip Threadripper 3990X, 3970X, 3960X; Intel i9 10980XE.

RAM: 32+GB

Graphics card: GeForce RTX 3080 Ti (10240 CUDA Cores, 12GB VRAM) or GeForce RTX 3090 (10496 CUDA Cores, 24GB VRAM.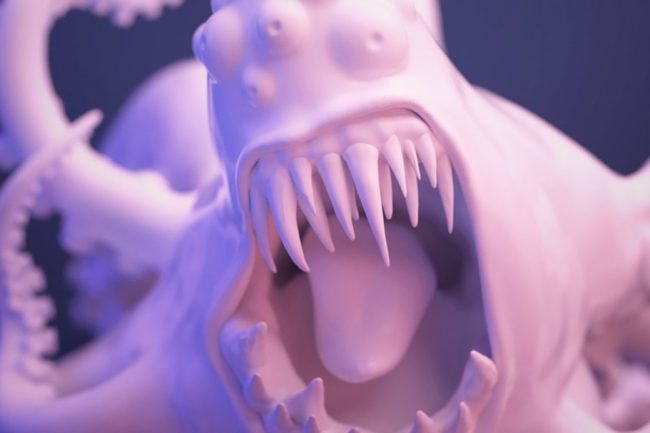 Image Source: Greyscalegorilla
3. The best GPU for Redshift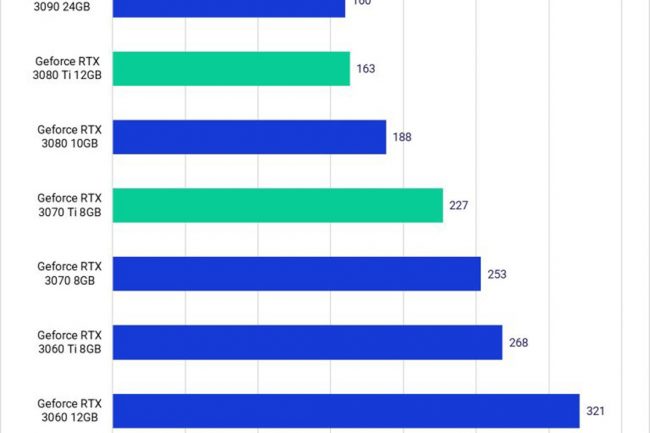 Image Source: Puget System
You can speed up rendering by using multiple GPUs when you render with Redshift. Besides, there are two characteristics of a video card that have an impact on its ability to render are "The raw speed of the GPU" and "The card's memory". Although Redshift supports "out of core" rendering, which will enable system memory to be used if there is not enough dedicated GPU memory available. Morover, video memory will still limit huge and complex scenes.
There are three best GPUs for Redshift rendering you can select for your Redshift project:
Geforce RTX 3080 Ti 12GB: It can be said that this is a perfect option. If you only need one or two video cards and don't work with scenes that are extremely complicated.

RTX 3090 24GB: The RTX 3090 has the best Redshift performance and an incredible 24GB of RAM.

Card A5000: It is the top-tier card for individuals who desire to stack multiple video cards within the same system.
4. The Advantages and Disadvantages of using the GPU in Redshift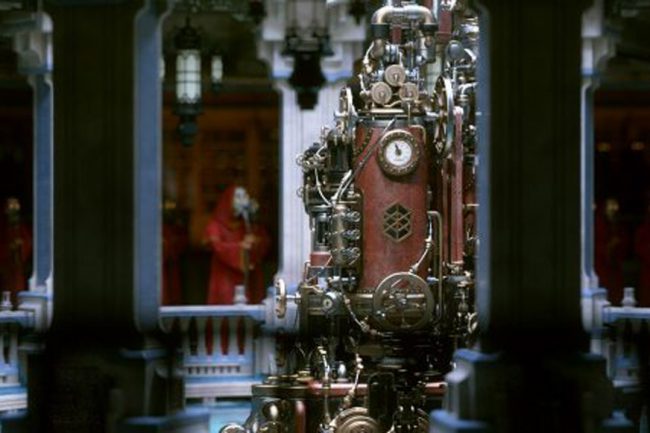 Image Source: Graphic SPeak
First, we will talk about the benefits of rendering GPUs in Redshift. Performance is the main benefit of GPU-accelerated rendering. On most scenes, it's much faster than any decent CPU renderer for the identical value computer. When Redshift integrates with Maya, it really gives the best rendering results. Besides, Redshift provides out-of-core rendering, therefore your VRAM usage is not constrained (but the rendering is slower when the scene size exceeds your available VRAM). In addition, the most crucial features are all present: hair, sss, and volumetrics. 
Second, we will tell you about the disadvantages of Redshift. Some minor features in Redshift are still missing: raytraced sss, custom render buffer, and custom AOVs to call some. Therefore, to encourage the most efficient speed and quality so to achieve the final results we need to adjust a little bit. Compared to the many shader libraries of Vray, there aren't many ready-made shaders available in Redshift. Due to the redshift shaders' ease of use, this can be significantly reduced. Last but not least, currently Redshift only works on Nvidia GPUs.
In conclusion, we hope that after reading this post, you will have a better grasp of certain cutting-edge optimization strategies for Redshift 3D. Besides, you also know how to render with a GPU in Redshift clearly and be able to use them to produce amazing projects in the future.
iRender - The Best Cloud Rendering for Redshift
1. High-end configuration
iRender is proud to be a professional GPU Accelerated Cloud Rendering Service provider for 3D Render, CGI, and VFX tasks with more than 30,000 clients. Morover, we are appreciated in many global rankings (for example, CGDirector,  Lumion Official,  Radarrender,  InspirationTuts CAD,  All3DP, BlenderBaseCamp, VFX Rendering.) In additionally, we have many servers from single, dual to multiple GPUs to serve your needs. Redshift can run on multi GPU, so let's check out our multi-GPUs servers like 4/6/8 x RTX3090s, they can render your project at lightning speed. Recently, we just released our new package server 4S (2 RTX 4090), you can refer its configuration as below:

2. Redshift server test on iRender
It can be said that iRender's server is a "beast". Because it speeds up your rendering process many times which suitable for people with tight deadline. Let's check out the rendering performance in Redshift on RTX 3090 and RTX 4090 servers:
Specially, in this month, we are running a SPECIAL PROGRAM: 20% Additional Bonus for new clients who register an account and make a top-up within 24 hours of registration. 
Get the FREE COUPON to try our high-end computers for your Redshift projects now! For further information, please do not hesitate to reach us at [email protected] or Whatsapp: +(84) 916017116. 
iRender – Happy Rendering!