Getting Started With OctaneRender for Daz 3D with iRender
Octane Render engine is a Daz Studio render engine plugin that creates amazing results quickly! While Iray and 3Delight are excellent render engines, they can take a long time to render and complete your 3D scene. If you only have a small scene, have a short turnaround time, or have yet to build your ideal super-fast (and somewhat expensive) system, you'll need a lighter and faster render engine that takes less time and works with a variety of systems.
In this article, iRender will guide you on how to get started with OctaneRender for Daz Studio.
OctaneRender for DAZ Studio supports almost all features of the Standalone, including graph-based Node editing. Updates and new functions made available to the Standalone will usually appear in an updated DAZ plugin version after a short period of time.
Interactive use
OctaneRender for DAZ Studio is especially made to work interactively on a scene. Unlike common renderers or rendering plugins, all changes to cameras, geometries, lighting and materials in a scene are sent immediately to the render engine. Depending on the complexity of a scene and the available GPU power, the viewport is updated nearly in realtime or within a few seconds only.
Transferred scene information includes:
Camera updates; switching cameras and all relevant camera parameters (including Focal length and F/Stop) are supported

Geometries add to a scene (by loading/importing content) are added to the rendering instantly

Object positioning – using ultra-fast updates, without the need to transfer new geometry data

Geometry deformations (Morphs) are update extremely fast on a per-object basis

Instant hiding of scene elements (by using the "visible" property of DAZ Studio)

Base and subdivided geometries are fully supported; The use of the base geometries can be forced to allow even faster viewport updates.
Material system
Since OctaneRender uses its own, physically based material system, the DAZ Studio plugin converts existing DAZ Studio materials to basic Octane Render materials automatically or on demand. Specifically, it takes over used texture maps and converts parameters as possible. Furthermore the plugin cares about specifics of the DAZ Studio material management to provide easy and fast material editing for OctaneRender.
The plugin supports all materials and material-specific functions (Nodes) found in the Standalone version.
Rendering
The Plugin supports all render setup specific features of OctaneRender; in particular the different rendering Kernels (Direct Lighting, Pathtracing, PMC, Info Channel), as well as Tonemapping and post processing functions. Also fully supported are the base lighting types (HDRI and Sun environment).
In addition complete render setups (including render sizes) can be created and immediately switched, and also saved as "User presets". Base lighting setups are managed independently from the rendering setups and can also be saved and recalled on demand and as "User preset".
Animations
OctaneRender for DAZ Studio allows unrestricted animation rendering; 3rd party plugins to extend the animatio possibilitie o DAZ Studio are supported as long as they use standard methods to update DAZ scene elements.
In addition the plugin provides an animation cue which allows to switch cameras, Render setups and Lighting setups based on cue frames for animations as well as rendering non-animated image sequences.
OctaneLive DB
Using community made materials form the OctaneLive DB is fully supported. Live DB materials can be directly assigned to scene elements like own created Octane materials, even by drag & drop them onto the Octane viewport.
Since Live DB materials need to be downloaded from the Internet, the Plugin caches them locally to speed up further use of materials once downloaded.
Community made Live DB materials are fully accessible and editable, and may serve as starting point for own material creation as well.
Software and Hardware Requirements
Graphics card:
Any NVidia type of card using the Tesla / Fermi / Kepler architecture. Common naming schemes for these types of cards are GT* 2xx, GT* 4xx, GT* 5xx, GT* 6xx and GT* 7xx.

Support for cards using the Tesla architecture (GT* 2xx) is already limited, and may be discontinued in the near future.
Operating system: Windows XP / Vista / 7 / 8, 32bit or 64bit
System RAM: 2 GB or more for Windows XP, 4GB or more for Windows Vista and up
DAZ Studio version:
4.8 and up, 64bit.

At the time of writing the current and tested DAZ Studio version is 4.9
System Recommendations for Optimal Performance
For optimal performance and smooth interactive use, Windows 7 64bit, 8GB system RAM, a modern Quad core CPU, and a GTX brand NVidia graphics card (like GTX 560 / 570 / 580 / 590) with 1536MB VRAM or more is recommended.
Installing OctaneRender for Daz Studio
First Installation
Ensure that DAZStudio is not currently running on your PC, then run the provided installation file (e.g., OctaneRender_for_DazStudio_2_24_2_1_Win64.exe). The installer will copy the plugin files as follows:
DAZStudio.exe folder -> Octane Libraries

DAZStudio.exe folderpluginsOctaneRender -> The plugin dll

c:\Users\[username]\OctaneRender -> Resource Files.
When installing the plugin on Windows, you must be installing as the user that will be using DAZ Studio, and that user must have Admin access.
After copying all needed files, the Activation Manager is started to initialize the plugin before first use.
Updating the DAZ Plugin
If an updated version of the DAZ plugin version is available, you can download it from the Otoy forum, DAZ Studio section.
The Installer will lead you through the necessary steps to update the plugin.
It is not necessary to uninstall the plugin prior updating it.
Settings/Configuration
Edit the c:\Users\[username]\OctaneRender\Data\OctaneRender_switches.cfg file to set configuration options such as window and mouse behavior.
Locate username/password
In order to use the plugin, you will need an OctaneLive™ username and password for the main OctaneRender license and the additional username and password for the plugin license.
Activation username and password are not identical to your OTOY account login or the community forum login; their format will always look like this: Username: 12345678 (an 8 digits number), Password: aBcdEFgHiJKl (12 mixed case characters)
Using the Activation Manager

The Activation Manager can be found in the System Programs menu in an OctaneRender program group. Alternatively, it can be started directly from within the plugin, from the OctaneLive tab. DAZ Studio must not be running while performing activation or deactivation.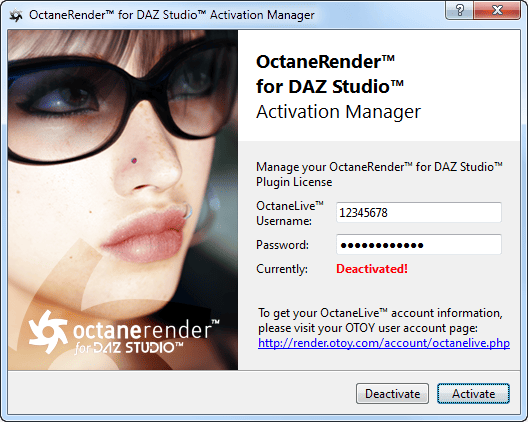 Please enter the plugin license username and password into the appropriate fields and click "Activate". If you were not using OctaneRender before and the main license needs yet to be activated, a popup dialog will appear where you can enter your username and password for the main OctaneRender license.
Please note that an active Internet connection is required to perform activation or deactivation of OctaneRender™ and/or the plugin.

It is not necessary to install the OctaneRender Standalone, if you don't plan to use it.
Subsequent activation and deactivation

If you like to transfer your license to another machine, you need to first click "Deactivate" in the Activation Manager on the PC where you are currently using the license. To activate the Plugin use the Activation Manager again.
If you just want to disable the Plugin, but like to keep the license linked to the PC where the Plugin is currently in use, you only need to turn it off from the DAZ Studio plugin dialog ("About installed Plugins" entry in the "Help" main menu), and restart DAZ Studio afterward.
If you deactivate the Plugin, either directly from the Activation Manager, or from the OctaneLive Accounts page, a grace period of 1 hour is needed, until the same license can be activated again – on the same or on another PC.
Online deactivation

If you have no access to the Activation Manager and want to deactivate the Plugin, you may always do that from the OctaneLive Accounts page in your OTOY user account.
Render your projects with iRender Service!
OctaneRender is a fully GPU-based render engine. This means that the GPUs (graphic cards), rather than the CPU, in your system are what impact how long it takes renders to finish. OctaneRender actually scales almost perfectly with multiple cards, unlike most software that utilizes the GPU. In other words, when you use two cards your renders will finish twice as fast as they would with just one single card. When using four cards, you will complete renders four times faster! Therefore, the more powerful the GPU, the better; the more GPUs, the faster the renders will be. 
At iRender, we have both powerful GPU and multiple GPU servers that definitely speed up Octane rendering. Our multiple GPU machines are designed with 2/4/6/8x RTX 3090. Also, all of them have a robust AMD Ryzen Threadripper Pro 3955WX processor, allowing you to extract mesh data, load textures, and prepare scene data more quickly. Moreover, the workstations are ideal with 256GB RAM capacity and 2T NVMe SSD storage. We highly suggest you try the highest configuration server, the 8x RTX 3090. This server will be a super-configured one that brings fantastic speed to OctaneRender in Cinema 4D. It is currently rated as one of the most worth-trying workstations so far for Octane GPU rendering.
Besides, one great solution is to become iRender Prime customer.  You will have a chance to use Octane Enterprise license at no cost. 
Let's see some of iRender's tests with Octane on iRender powerful servers below: 
You can create an account via this link to experience our service. And don't hesitate to contact us at any time for advice and support. We are always available 24/7 and would be happy to assist you.  
Sincerely thank you & Have a very great day!
Getting Started With OctaneRender for Daz Studio