Should you go with Blender or Cinema 4D?
As we all know, Blender and Cinema 4D are the two most famous names in the artist community. When comparing these two software, we have to look at different aspects carefully. As a result, how do you know which one to use and what are the key aspects of each, such as rendering, modeling, community, and much more! Cinema 4D is the best for those who desire to work in VFX and CG for movies, television, video games, and motion graphics. Many animators and designers start with Blender because it's very simple and has many plugins integrated. In this Blog today, let's go with iRender to explore many attractive features in two programs and find the answer "should you go with Blender or Cinema 4D?"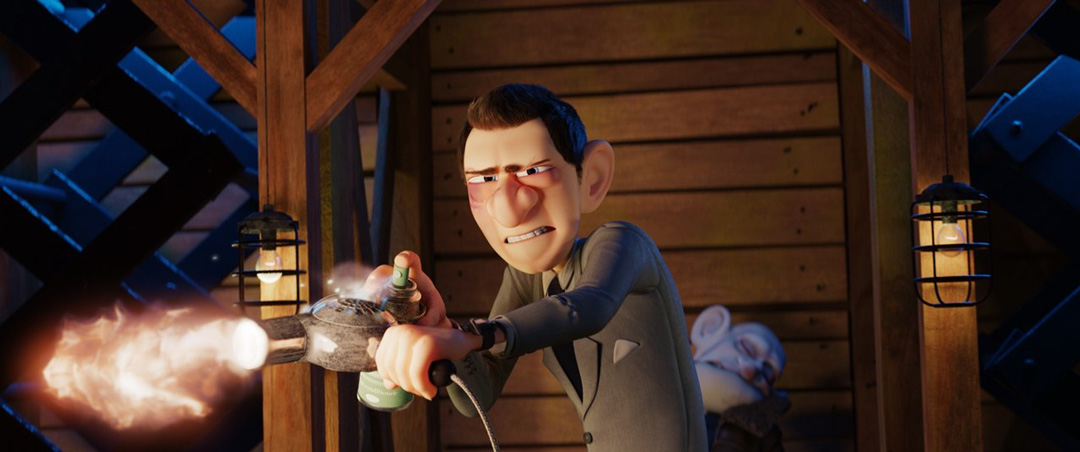 Image Source: Animation World Network
Learning Blender versus Cinema 4D is undoubtedly more challenging. If you have a more technical mindset, you might discover that experimenting with Blender's node structure and scripting gives you a lot of joy. Blender is not only a normal design software, it also gives users powerful video and vlog editing features. With this feature, users can edit, crop and edit videos quickly. Moreover, the feature that can be considered a strong point of Blender is that it will give users 3D shaping and sculpting tools. The sculpting feature will be similar to other software, but the sculpting feature will surprise you with features like push and pull mesh.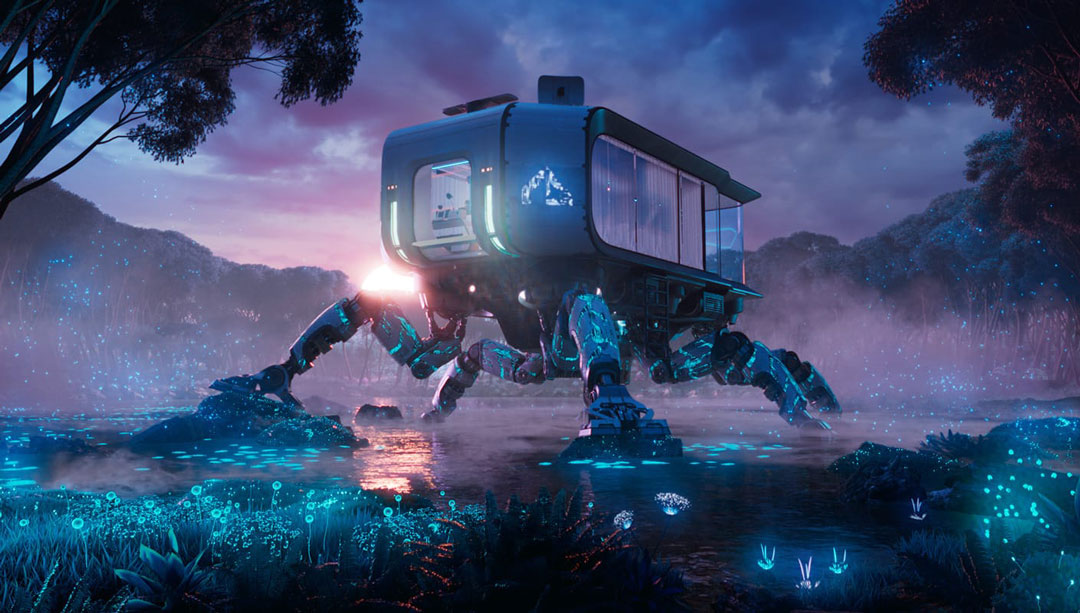 Vray for Cinema 4D (Image Source: Chaos)
Cinema 4D is a 3D graphic design software. It was written in Java programming language, using API scripts in C++. Besides, Cinema 4D has a simple layout, flexible interface but is capable of doing everything (like rendering, lighting, materials, animation) with excellent physics. Also, Cinema 4D offers a powerful and flexible set of tools that make it easy to create a variety of 3D products with outstanding quality without spending too much time. Cinema 4D allows the integration of 3D objects from other software such as NUKE, Photoshop into the image environment.
Exploring each aspect of Blender and Cinema 4D
3.1. User Interface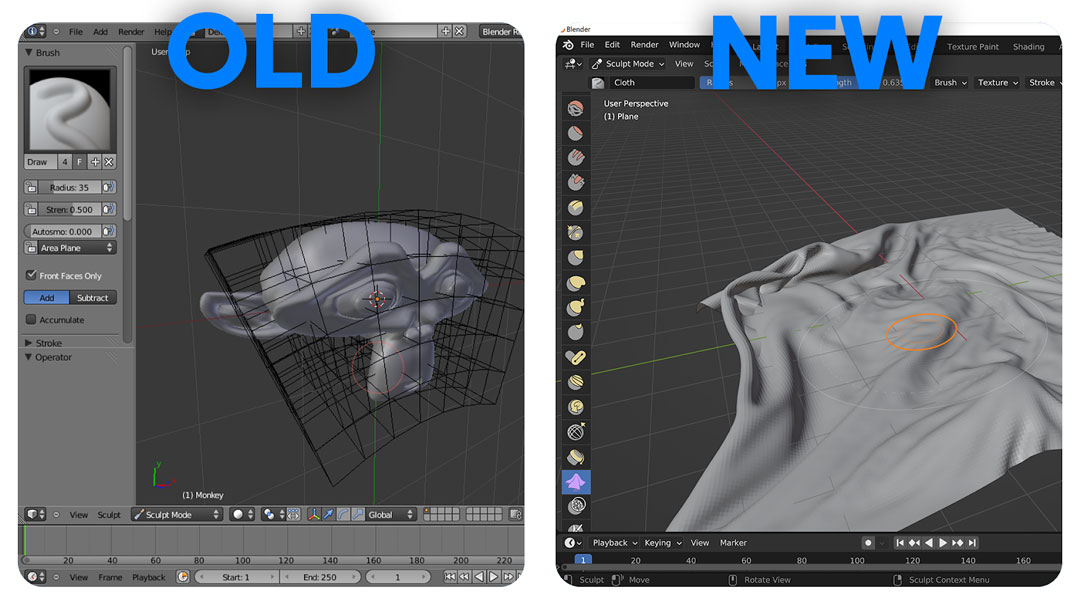 Image source: School of Motion
The user interface of Blender has significantly improved in recent years. As result, users can view it more easily because to the user interface. There are numerous windows on the Blender interface. Besides, user can manually adjust the amount and types of windows that are displayed on the screen or choose a preset from the Screen Layout option at the top of the screen.
With Cinema 4D, the user interface has been updated. With a series of browser-inspired tabs along the top of the window to switch between open documents and interface layouts reminiscent of Blender's style. Overall, we believe that Cinema 4D offers a somewhat streamlined user interface for someone with a specialized workflow, whereas Blender has one that is much more friendly for a beginning.
3.2. Community for Plugins
The community for plug-ins in Blender is almost never ending. Due to Blender's open source nature, people can just go in with an idea and produce a product. These plugin are no cost. Additionally, compared to Cinema 4D, the purchased plug-ins are typically more economical.
While Cinema 4D plug-ins can be expensive, they are very very impressive. Both communities deliver quite outstanding outcomes and won't let you down in terms of plug-ins.
3.3. Motion Graphics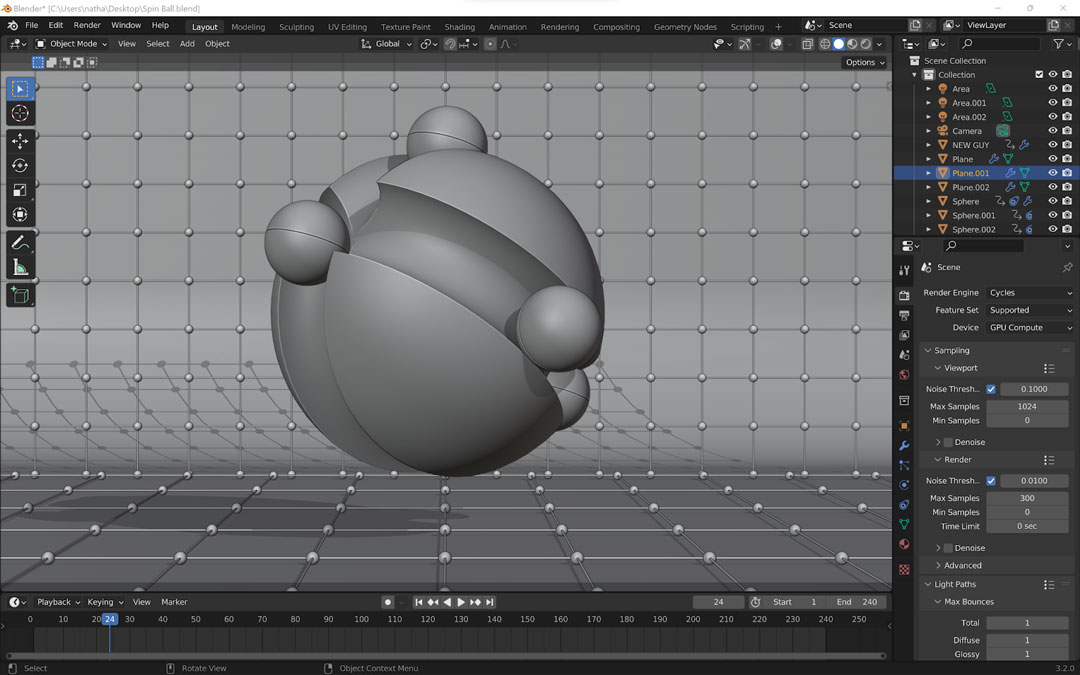 Image source: School of Motion
Cinema 4D is the best software when it comes to motion graphics. If your goal is to make industry standard motion graphics, you should use Cinema 4D. The cinema MoGraph System is simply superior. Most of what Cinema 4D can achieve, Blender can as well, although it will take more time to complete.
Blender has an "everything nodes" project being worked on at The Blender Institute. Moving as many components to a node-based system as possible is the project's aim. The distance between Blender and Cinema 4D will narrow as that project progresses.
3.4. Texturing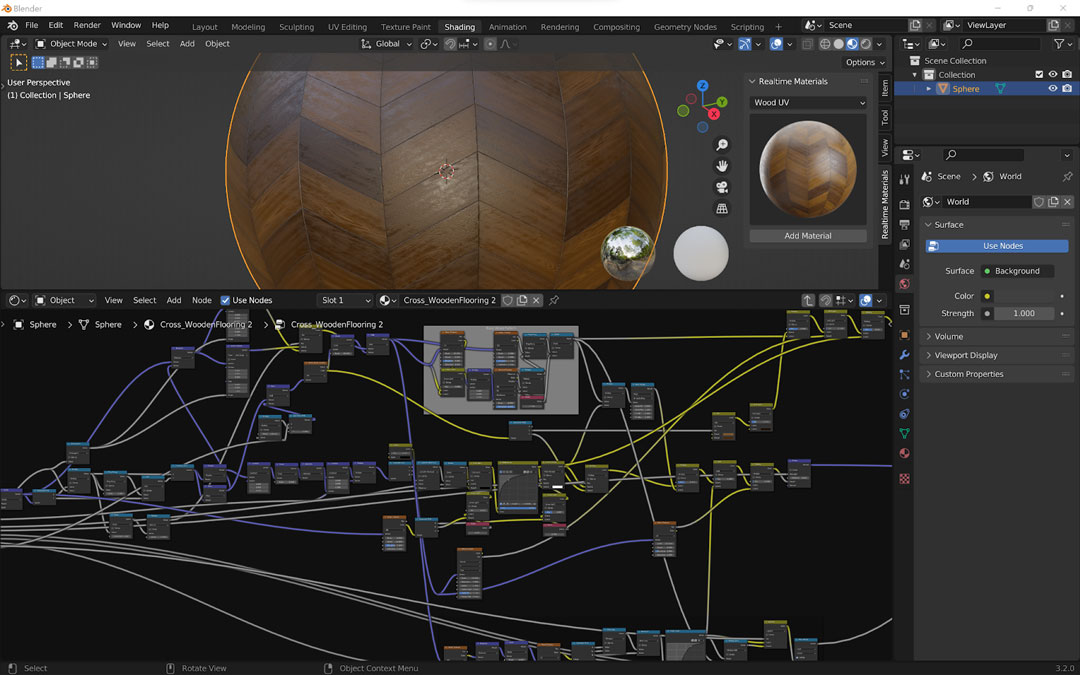 Image source: School of Motion
Blender has a wholly node-based method for texturing. At first, it could seem complicated and complex, but as you get your head around it, you'll see how useful it is.
Cinema 4D has a more intuitive texturing process. You still have access to a node-based system if you'd like to utilize it, and it feels a lot more approachable. The Blender node system is going to be ideal for you if you enjoy diving deep and understanding everything that is happening. If you were technically minded but still want things to feel a little more automated, definitely go for Cinema 4D.
3.5. System requirements for Cinema 4D and Blender
Blender
Operating system:Windows 8.1+, MacOS 10.13+, or Linux

Storage space: 1 TB

Display: 2560×1440, 24 bit (maybe even two)

CPU: 64-bit eight-core with SSE2 support, 2.9+ GHz, (e.g. AMD Threadripper 3990X, 3970X, 3960X; Intel i9 10980XE, 10900k)

RAM: 32+ GB

Graphics card: High-quality GPU card or dual-graphics card with 12+ GB RAM

Mouse: Three-button mouse or pen and tablet
Cinema 4D
For Windows PCs:
Operating System: Windows 10 64-bit Version 1809 or higher

Processor: Intel 64-bit CPU or AMD 64-bit CPU with SSE3 support

Memory: 8 GB RAM, recommended 16 GB

Graphics Card: NVIDIA Maxwell GPU (GeForce 900 series or higher), AMD Polaris (AMD GCN 4) or higher (Radeon RX 400 card or higher)
For MACs:
Operating System: macOS 10.14.6 or higher

Processor: Intel-based Apple Macintosh or Apple M1-powered Mac

Memory: 4 GB RAM, recommended 8 GB

Graphics Card: Metal: macOS GPUFamily1 v3 or higher
So after all of this information, should you go with Blender or Cinema 4D, it depends on the specific project. Whether you use Blender or Cinema 4D, you need a computer with a powerful enough configuration. iRender meets all these aspects.
Why should we choose iRender for Blender and C4D?
1. Features and Highlights of iRender
iRender is proud to be a professional GPU Accelerated Cloud Rendering Service provider for 3D Render, CGI, and VFX tasks with more than 30,000 clients. We are appreciated in many global rankings (e.g. CGDirector,  Lumion Official,  Radarrender,  InspirationTuts CAD,  All3DP, BlenderBaseCamp, VFX Rendering.)
With iRender, all the servers are physical machines, you will ensure 100% performance and security. In addition, you will need a password to access the server, no shared working environment with anyone else so the confidentiality is absolute. Last but not least, there are outstanding features such as:
Flexibility

: Users can handle immediately your projects that require frequent editing and modification on iRender server without queuing. It can be said that this special characteristic directly satisfies user needs.

Various options

: suitable for all projects and budgets. You can save your budget with daily/weekly/monthly/yearly Fixed Rental packages, which saves you up to 20% of the cost compared to the hourly rental. 
In particular, iRender has many servers from single, dual to multiple GPUs to serve your needs.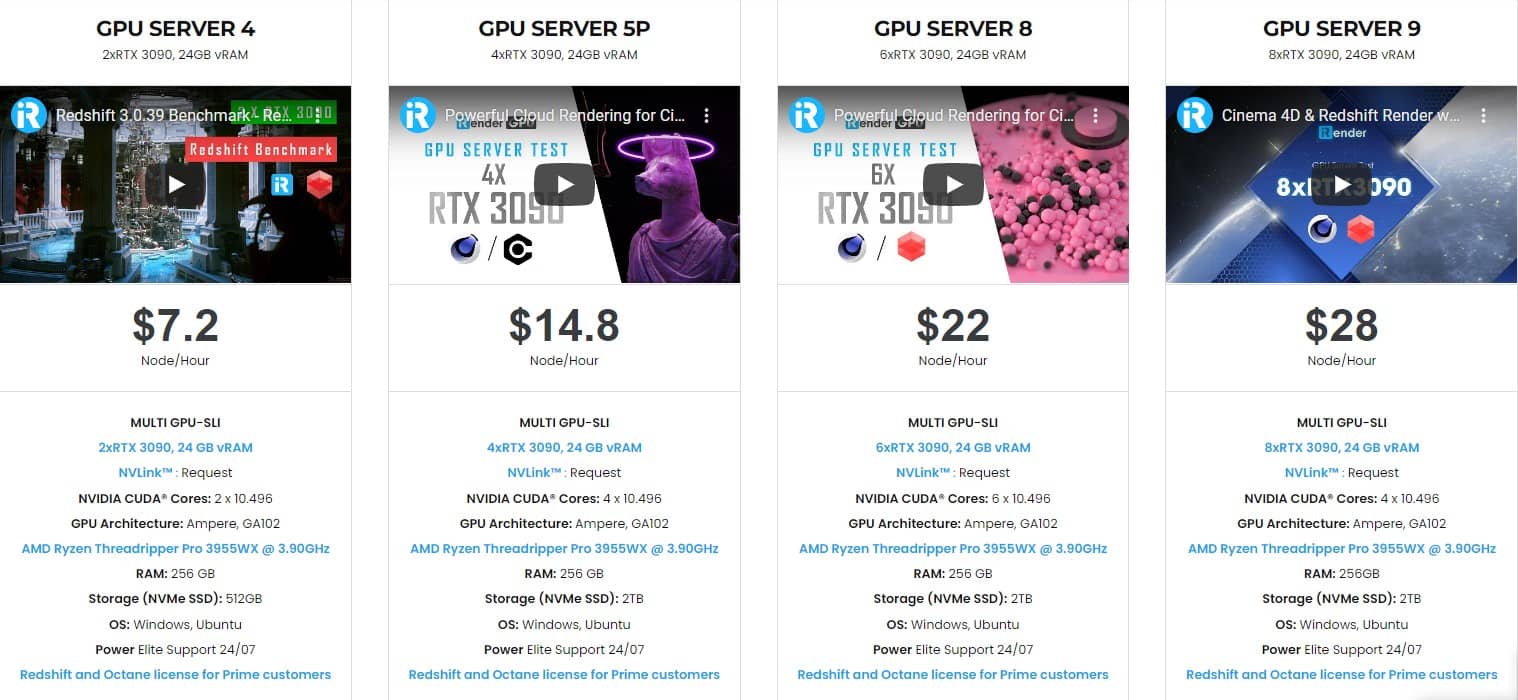 Specially, we just released our new package server 4S (2 RTX 4090), you can refer its configuration as below: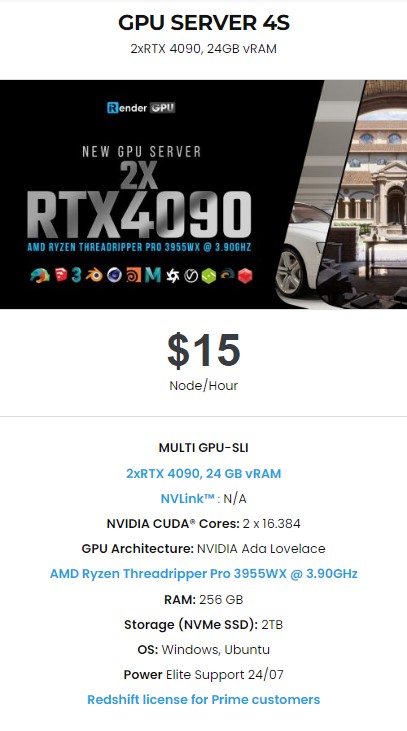 2. Blender and Cinema 4D server test on iRender
Let's check out the rendering performance in Blender and Cinema 4D on RTX 3090 and RTX 4090 servers. 
3. Our Customer Support and Technical Team available 24/7
In case you have any problems or questions, don't hesitate to contact the 24/7 support team. We will be happy to help you with your questions and problems at all times.
Besides, iRender always has a special deal for you.
HOT DEAL: From Dec 13th to Dec 25th, 2022 (GMT +7), you will get 100% bonus points for your first-time recharge from $2000.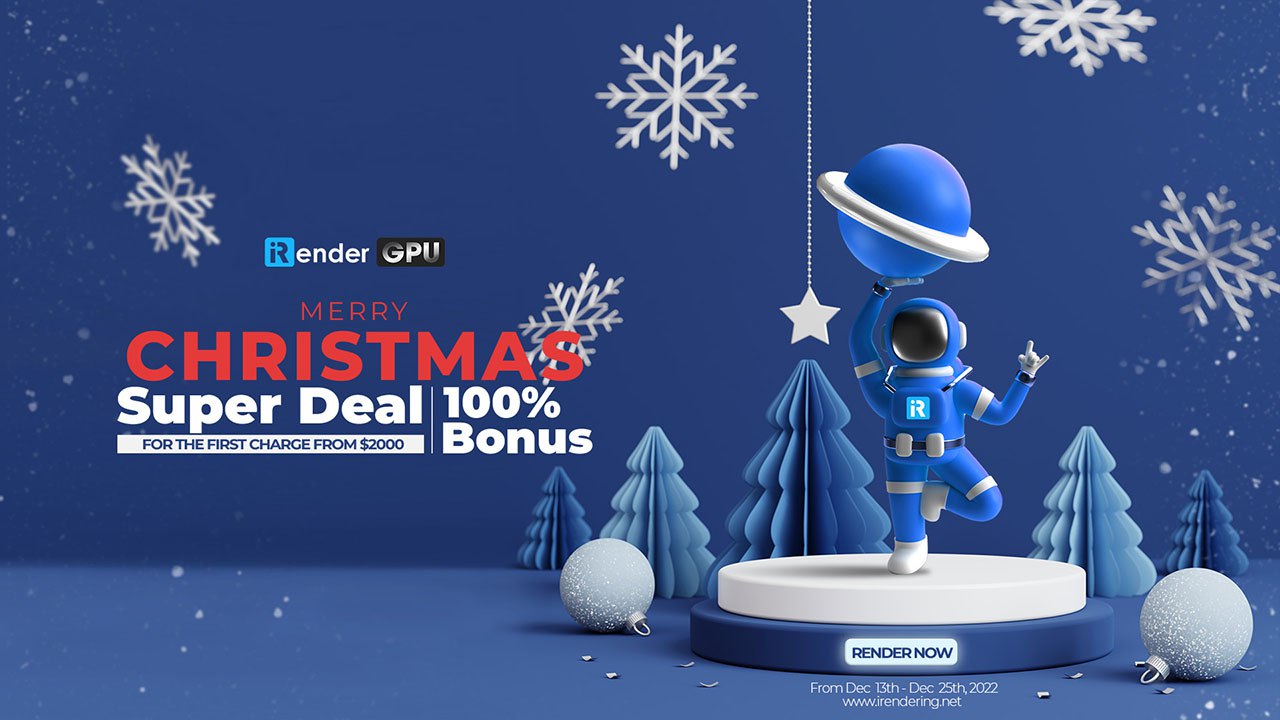 Get the FREE COUPON to try our high-end computers for your Blender and Cinema 4D projects now! For further information, please do not hesitate to reach us at [email protected] or Whatsapp: +(84) 916017116. 
iRender – Happy Rendering!