Render faster with 4x RTX 4090 for Octane - Redshift and Blender Cycles
Since the Nvidia RTX 4090 was released in October 2022, users have almost had enough time to evaluate and compare its strength in the field of 3D rendering. In today's article, let's dig deeper into the outstanding power that the new configuration of iRender – 4 x RTX 4090 brings to Redshift, OctaneRender and Blender Cycles which are best multi-GPU render engine.
Let's take a look at some of the basic specs of the RTX 4090 compared to the RTX 3090, one of the most powerful predecessors.
Nvidia RTX 4090 specs
| | | |
| --- | --- | --- |
| | Nvidia GeForce RTX 4090 | Nvidia GeForce RTX 3090 |
| VRAM (GDDR6X) | 24GB | 24GB |
| Boost clock | 2.52GHz | 1.70GHz |
| Base clock | 2.23GHz | 1.40GHz |
| CUDA cores | 16,384 | 10,496 |
| Ray tracing cores | 128 | 82 |
| Tensor Cores | 512 | 328 |
| Bus Width | 384-bit | 384-bit |
In comparison to its predecessor, the Nvidia RTX 4090 features a number of improvements, including faster clock speeds, more CUDA cores, third-generation ray tracing cores, and fourth-generation tensor cores.
Additionally, the RTX 4090 will be equipped with a 12-pin PCIe Gen 5 power connector that can transmit 600W over a single cable. This means that since most power supplies use a 6+2 pin configuration, you might need to use an adapter to ensure compatibility.
Below is a comparison chart of the power of the best cards for 3D rendering, parameters performed by the 3DMark Time Spy Graphics.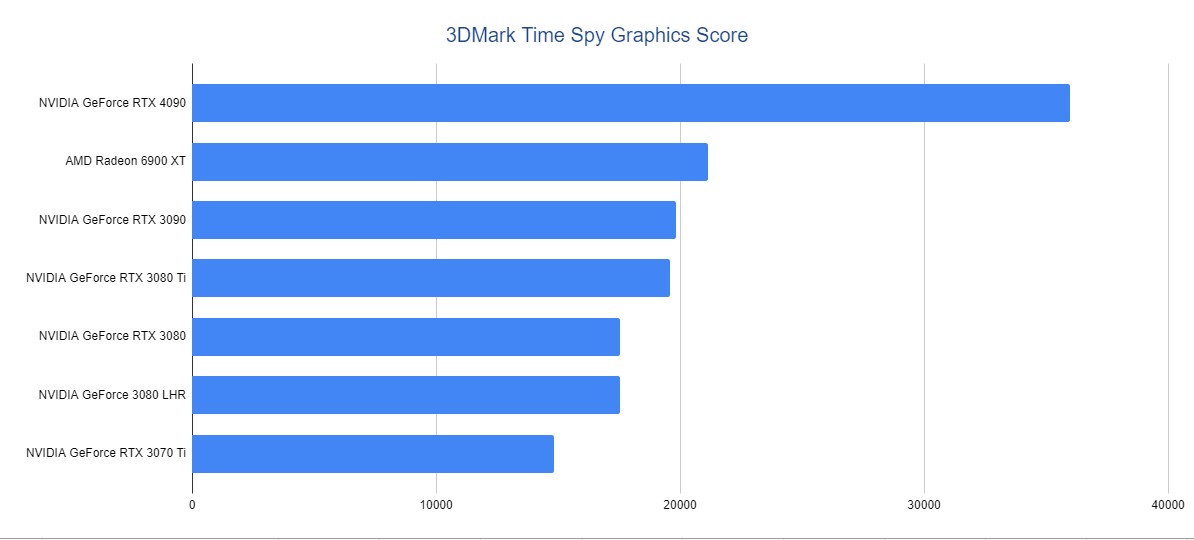 As we all can see, RTX 4090 is showed as one of the most powerful GPUs on the market at the moment.
It will take a lot of effort to defeat the Lovelace leviathan because the Nvidia RTX 4090 has formally ousted the RTX 3090 Ti from the performance throne. The top position of the next-gen card will be protected by additional DLSS 3.0 techniques.
How super fast is 4x RTX 4090 for Redshift, Octane and Blender Cycles?
First, let's take a look at the RTX 4090 render benchmark comparison when rendering Redshift, Octane and Blender Cycles.
There is no doubt that RTX 4090 is currently still leading in rendering speed. Keeping up with the trend, iRender launched the 2xRTX4090 GPU server package in November 2022 and just release the latest 4x RTX4090 package.
As multi-GPU render engines like Redshift, Octane and Blender Cycles completely relies on the GPU for rendering, a powerful graphics card is required to increase their rendering performance. Redshift, Octane and Blender Cycles scale linearly with the number of CUDA cores within a given GPU architecture. 
Simply, if your motherboard can accept more than one video card, adding additional video cards greatly improves rendering speed because rendering performance of Redshift, Octane and Blender Cycles scales perfectly with the number of GPUs. The more GPU you have, the faster render you can.
Is just  good GPU enough?
The answer is no. A good GPU delivers unparalleled rendering speed, but if the CPU isn't powerful enough to speed up scene loading, it will result in a slow down in actual render time, or worse, a bottleneck. 
So the CPU actually matters for rendering performance, just not much. One of the most important factors is high clock speeds. Many of the applications that would be run alongside Redshift, Octane and Blender Cycles – like Cinema4D, Maya, and 3ds Max – also perform best on low core count but high clock speed processors. CPU power usage goes up with both increased clock speed and higher core counts, so having fewer cores will help keep that in check and leave more power for the video cards in a system.  
Let's see what we have in new specs of 4x RTX 4090: AMD Ryzen™ Threadripper™ PRO 3955WX @ 3.9 GHz – top processor from AMD. This processor is designed to deliver exceptional performance for professionals such as artists, architects, engineers.
Besides, RAM capacity of 256GB and 2TB SSD storage are also impressive factors.
Let's see the rendering performance of 4 x RTX 4090 through iRender's latest test videos.
Why choosing iRender for Multi-GPU accelerated rendering?
In summary, Nvidia GeForce RTX 4090 is one of the most powerful graphics cards on the market. Multiple GPU configurations, particularly 4 x RTX 3090, even bring more GPU power, providing incredible performance for 3D rendering, video editing and scientific computing.
However, it has never been easy to set up such a workstation. But no worry, instead of building one on your own and encountering lots of trouble (even failure), you can take advantage of iRender's GPU servers to speed up your work. We have single GPU, dual GPUs, and multi-GPUs packages for all your needs. Especially, the dream beast 4x RTX 4090 is optimized for multi-GPU render engines  like Redshift, OctaneRender and Blender Cycles.
And we are more than just powerful configurations.
Unlike other render farms, iRender provides you with powerful machines with top-notch hardware, then users will remotely connect and take full control of it. Using our remote PC is just the same as using your local PC. You can install any software with any version you want.
Investing $1500 for a graphics card, > $10.000 for using Multi-GPUs, not to mention the costs of other compatible factors to build a computer, is also very expensive. This is such a big investment for anyone, single individuals or freelancers or even studios. With the RTX 4090 series, the investment cost is many times higher for reasons related to power.
Using a render farm with Multi GPU nodes will bring significant time efficiency for your projects, which also means saving you money.
iRender has a great number of enthusiastic staff that are always ready to support you 24/7. Whenever you have trouble using our server, or even with your software, we – iRender Support Team are always there to help you solve your problem. 
Render failure? You do not need to waste your time asking forums or waiting for days from the developer. We support you 24/7. We believe the quality of support we provide is as important as the technology we deliver.
So hesitate no more. Create an account and experience the next level of rendering. Render on 4 x RTX 4090 has never been easier and cheaper with iRender.
Thank you & Happy Rendering!
Render faster with 4x RTX 4090 for Octane - Redshift and Blender Cycles