Should we use Redshift Renderer for Houdini?
The best-known feature of Redshift is its fast rendering time. This render engine is the world's fastest final-frame GPU-biased renderer. It has incredible features that allow a quick turnaround time. Is Redshift already stable and should we use Redshift Renderer for Houdini? In this article, iRender will find the answer to this question.
What are Redshift Renderer and Houdini?
Houdini is a 3D animation and unique effects application developed by Side Effects Software based in Toronto, Canada. They are a software company started in 1987. Houdini was created for VFX and 3D animation artists working in cinema, television, video games, and virtual reality. Houdini works with various 3rd party renderers. To name a few, Arnold, Renderman, and Redshift.
Redshift is a biased renderer, in contrast to other GPU renderers. Redshift provides a wide range of advanced capabilities and integrates with industry-standard CG applications. That includes Houdini, Maya, 3ds Max, Blender, Cinema 4D, and Katana. It can be said that one of the most renderers for Houdini is Redshift. It is a biased renderer that allows the user to adjust each detail while the rendering process gets the best performance/quality balance for their production.
Redshift is one of the best render engines for Houdini
It is optimized for GPU speed real-time rendering, enabling it to take the full power of modern GPU for fast and efficient rendering. Redshift has a variety of outstanding characteristics and works with well-known CG programs like Maya, 3dsMax, and Cinema4D. Redshift has out-of-core technology that enables it to render large scenes for both texture and geometry.
Especially, Redshift can take advantage of multi-RTX 4090 to handle the most complicated in Houdini. Redshift can support up to 8 GPUs for each session. The more GPUs added, the faster the render time will be. Below are some Redshift Benchmark Results from CG Director and Puget System:
Physical camera and lighting simulations: Thanks to the advanced camera and lighting simulations, 3D artists can push the bounds of photorealism.

Support for AOVs (Arbitrary Output Variables): this potent feature provides them large flexibility by allowing users to divide various components of a generated image into separate channels.

Photorealism: Redshift is perfectly equipped to render realistic scenes with top-notch textures and materials.

Character: This engine includes advanced subsurface scattering (SSS) algorithms that enable photorealistic skin, detailed hair, and fur styles, and realistic light reactions.
Versatility and Photo-Realistic Results
Redshift offers more than just speed; it also provides a variety of features and accurate, photo-realistic images that are comparable to images rendered by unbiased engines.
Redshift allows you to create photo-realistic images in half the time it takes unbiased renderers to complete the task. Additionally, you can get a live preview of the rendered scene. You can change the settings as you work on the scenes with Redshift's real-time update viewer. If you have deadlines to meet, this tool is amazing.
Using Redshift Renderer is super easy. More importantly, everything makes sense. Features are created and implemented to improve user experience. With Redshift, render times are incredibly fast. Then you can easily handle other important tasks which greatly speeds up your workflow.
Another advantage of the Redshift rendering engine is its support for render farm systems. There are now a lot of render farms that support rendering with Redshift. One of them is iRender. iRender is a cloud render farm. They provide high-performance computers with many CPUs/GPUs for rendering and training AI. Clients will access our servers through file RDP. Then, they fully control the remote machines and install all the software they want. Currently, iRender has pre-installed Redshift. And from 01st to 18th August 2023, they provide a free 1 Redshift license to use for each use.
Should we use Redshift Renderer for Houdini?
We all know that Redshift is best known for its fast rendering speed but this software offers much more. Furthermore, Redshift dramatically speeds up interactive rendering by leveraging the power of the GPU, allowing for more efficient work environments from appearance development to lighting. Especially, when working with Redshift, you can interact and adjust settings directly during work thanks to the real-time feature. Artists will receive high-quality images quickly instead of waiting for long and expensive overnight renderings. Additionally, it's easier for artists to scale up their rendering by adding more GPUs to their existing PCs because Redshift can render up to 8 GPUs per session. Overall, artists and individual studios of all sizes can improve the speed and efficiency of their workflow with the help of Redshift.
Should we choose the Redshift renderer for Houdini workflow or choose another renderer for stability? They will depend on your needs and tastes. 
Boost Your Rendering with Redshift in Houdini at iRender Farm
iRender offers you high-configuration single and multi-GPU servers, specifically 1/2/4/6/8x RTX 4090 & RTX 3090. Powered by two of the most single-core performance CPUs for Redshift which are AMD Ryzen™ Threadripper™ PRO 3955WX @ 3.9 – 4.2GHz & AMD Ryzen™ Threadripper™ PRO 5975WX @ 3.6 – 4.5GHz, 256GB RAM and 2T NVMe SSD storage, all our servers can handle almost all levels of complexity of Redshift projects.
We are proud to be the only render farm that provides you with a workstation. You can install any software and plugin you want to use. You will have to take full control of it via the Remote Desktop file. We have many servers that you can pick that suitable for your budget. All our servers are physical machines and it works independently. You still can use your local machine at the same time, it won't affect anything. Let's check out our test videos about Redshift rendering performance on our multi-RTX 4090 servers.
Besides, we just released a desktop app called iRender GPU. It will contain almost all the features, and help you to do everything without having to come to the iRender website.
Moreover, we have HOT DEAL this month: we have a promotion 100% bonus for the first transaction within 24h of your registration.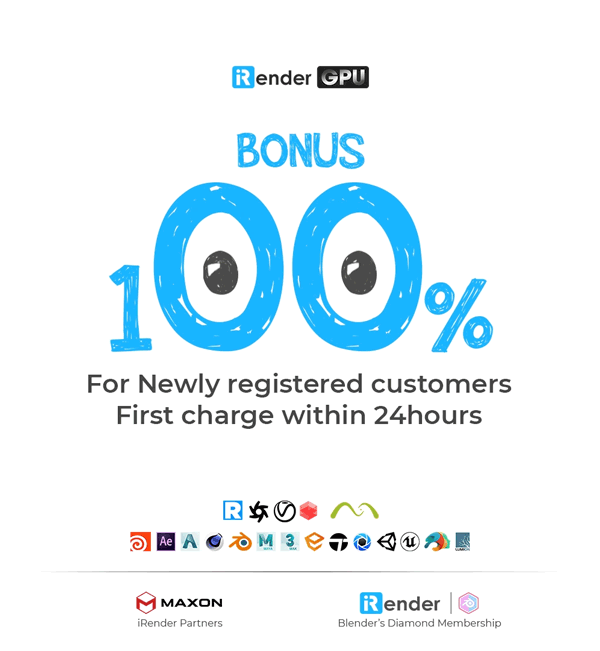 Let's create an ACCOUNT and try our render beast. If you had any comments about our article, please do not hesitate to send me an email at [email protected] or mobile/ WhatsApp: +(84) 916017116, Skype: Lina iRender. We really appreciate all of your comments!
iRender – Happy Rendering!
Reference source: Maxon, CG Director.