Overview of Baking Camera in OctaneRender
The baking camera is used to save and reuse the textures that are assigned to the objects in your scene (e.g., game engines, compositing etc.). Both render times and texture quality will increase as a result. For game engines, texture creation is a crucial technique. The specular, reflection, and other properties of the Baking Camera will be preserved.
In today article, let's get an overview of Baking Camera in OctaneRender
Bake a texture using Baking Camera
Get your textures and lighting ready. The UV maps for the Baking Camera must be properly organized with islands that do not overlap, as shown below.
The baking camera has two baking options: bake the entire scene (not advised) or bake each individual object. We want to bake the texture of both the Dog object and the Plane object in the image below. Create a "Octane Object Tag" for each of the two objects and then select the "Object Layer" tab in the Tag window to proceed. For the Dog object, enter "Bake ID" 2 here. The Ground Object's "Bake ID" should be 3 set. Create an Octane Camera now, then select Camera Tag. Select Baking as the Camera Type.
Activate Live Viewer. You'll get the outcome shown in the image below if the "Bake Group IDs" setting is set as previously mentioned in the Octane Camera Tag / Baking options. These baked textures can be saved and used again, for instance in Unity or Unreal Engine.
Baking Group ID
Names the group ID that should be baked. Every object automatically belongs to baking group number 1, which is the default. The default value for the bake ID of the entire scene is 1, and the entire scene will be baked if you do not define it for each object in the scene using the Octane Object tag / Object layer menu.
UV Set
This establishes the UV coordinates to be applied during baking. If your object contains more than one UV map, you can change it here and use the appropriate UV map.
Revert Baking 
The directions of the camera are reversed if checked.
Padding Size
This is how many extra pixels were added to the UV map's edges. It specifies the padding size in pixels. The minimum and maximum padding sizes are 0 and 16 respectively, with the default padding size set at 4 pixels.
Edge Noise Tolerance
It is possible to specify an edge noise tolerance, which helps get rid of hot pixels that appear close to UV edges. Hot pixels are not removed at values close to 1, while those close to 0 make an effort to do so.
UV Region
This is the bounding region's size in UV space for baking.
Baking Position
The position for baking "position-dependent" artifacts is used when the setting is enabled. For "position-dependent" artifacts, such as reflections, etc., position is the camera position. Whether to bake back-facing geometry is determined by back-face culling.
iRender offers the most powerful RTX 4090 configuration packages on the market for Octane Rendering
iRender have recently released new multiple RTX 4090 servers (4x RTX 4090 and 2x RTX 4090) that are rated as the most robust render machines on the market. They are highly recommended for speeding up Redshift and Octane rendering. Below are these two servers' configurations: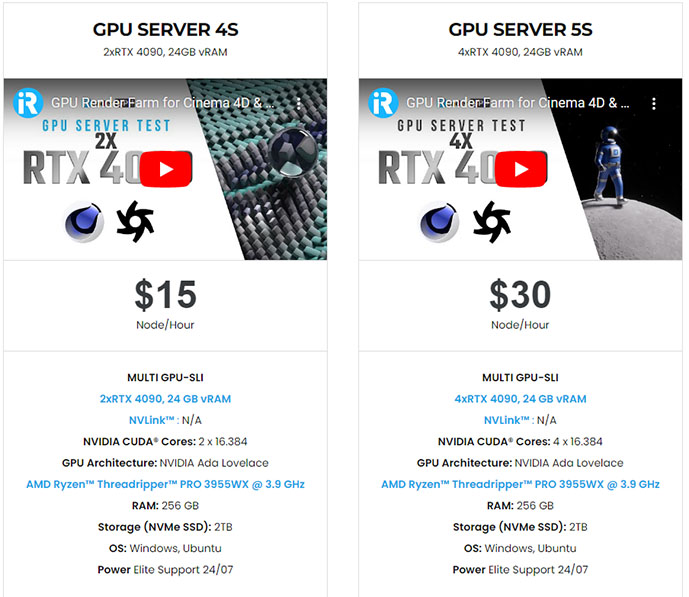 And we are more than just powerful configurations.
Unlike other render farms, iRender provides you with powerful machines with top-notch hardware, then users will remotely connect and take full control of it. Using our remote PC is just the same as using your local PC. You can install any software with any version you want.
iRender has a great number of enthusiastic staff that are always ready to support you 24/7. Whenever you have trouble using our server, or even with your software, we – iRender Support Team are always there to help you solve your problem. 
Render failure? You do not need to waste your time asking forums or waiting for days from the developer. We support you 24/7. We believe the quality of support we provide is as important as the technology we deliver.
So hesitate no more. Create an account and experience the next level of rendering. Render on 4 x RTX 4090 has never been easier and cheaper with iRender.
Thank you & Happy Rendering!
Source: https://docs.otoy.com/
Overview of Baking Camera in OctaneRender